Comprehensive Insurance Vs. Third-Party Insurance
OkBima
28 Apr 2023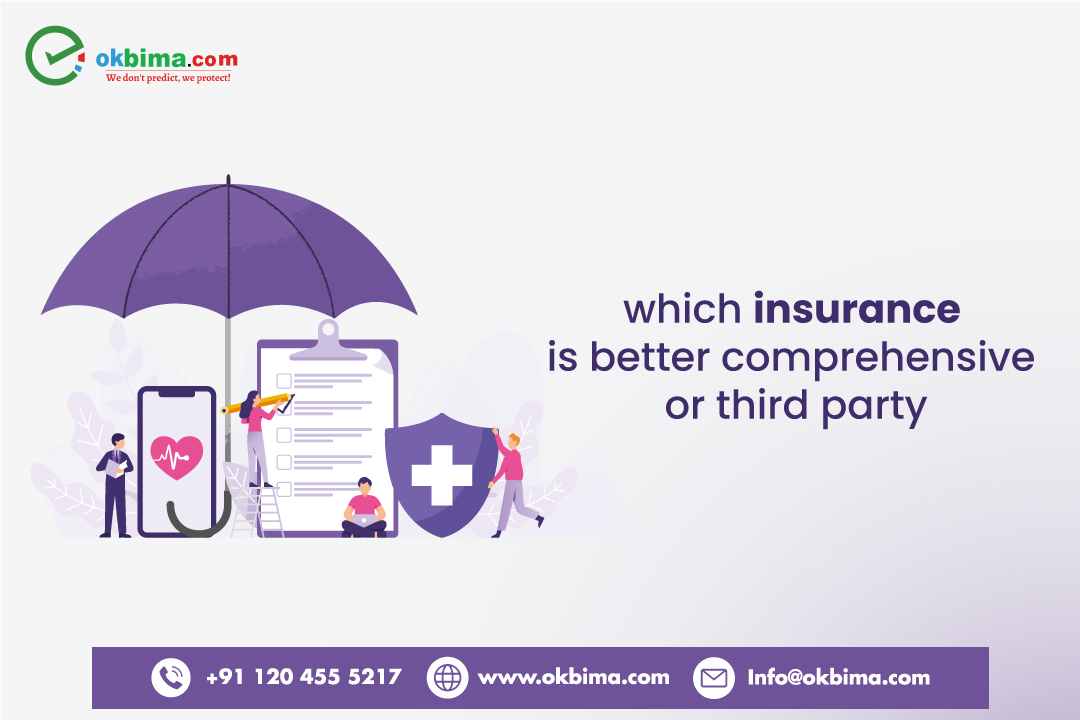 Third-party and comprehensive insurance primarily differ in the type of coverage they provide. For example, comprehensive auto insurance will also cover your personal damages, unlike a third-party policy, which only protects you against losses and damages to third parties.
In India, selecting the appropriate form of auto insurance is essential. After all, it is required by law to have, at minimum, a basic coverage policy that covers third parties. Lack of one may result in fines for moving infractions and even suspending your driving privileges.
It's essential to comprehend the difference between comprehensive and third-party car insurance to decide which will suit you and your vehicle better. This will protect you from costly fines, destruction, and damages resulting from collisions, accidents, floods, thievery, and other small and large mishaps.
What does Comprehensive Auto Insurance entail?
A comprehensive auto insurance policy is one of the most popular kinds of auto insurance since it covers damages to you and your vehicle, liabilities, and losses incurred by third parties.
Benefits of Purchasing Comprehensive Auto Insurance
Here are some benefits offered by comprehensive insurance
Damages to Your Vehicle Are Covered
Comprehensive auto insurance can safeguard your vehicle from any unlucky losses and damages brought on by collisions, fires, accidents, and other calamities. In doing so, you ensure that your automobile will continue to function correctly even in the event of an accident while also saving money on unforeseen costs.
Prevention of Financial Risk from Third-Party Liabilities
Compliance with the legislation and self-protection from losses in the event of third-party harm are the primary explanations for why people purchase auto insurance. An excellent feature of comprehensive auto insurance is that, in addition to safeguarding you and your vehicle, it also covers any damages you might incur should you cause damage to a third party's person or property.
Possibility to modify your IDV
The best expert on your car is you, according to Digit. Because of this, when you get comprehensive insurance online, you can alter your IDV or the selling price of your vehicle. Your premiums and claim amounts will be immediately impacted as a result.
Add-ons for Better Protection
Most individuals choose comprehensive car insurance since you can tailor your policy to your exact needs by choosing add-ons to increase the level of protection your car can receive. The return to invoice coverage, engine and gearbox protection, and consumables coverage are a few of these add-ons.
Effective in terms of costs
Although the comprehensive car insurance price is more expensive than the third-party car insurance premium, the protection and benefits you get with comprehensive vehicle insurance are much larger, which will end up saving you a tonne of money over time!
Safeguards Your Vehicle During Natural Disasters
Nature's rage is beyond your control. Yet, if you have comprehensive auto insurance, at least your automobile will be protected from any harm brought on by the same. Hence, regardless of whether your vehicle is destroyed by a flood, typhoon, or earthquake, it will be protected.
Pays You Compensation If Your Car Is Stolen
The worst are car thefts! You could lose one of your highest-valued assets in a matter of minutes. Nevertheless, fortunately, comprehensive auto insurance can assist you in this situation by making up for the absence of the same.
Breakdown Assistance Is Provided
A comprehensive auto insurance plan offers a variety of add-ons, including breakdown assistance. But what distinguishes this addition is that it rarely counts a claim. Thus, we'll simply be a phone call away whether you're stopped in traffic or are experiencing a minor breakdown, and it won't even qualify as a claim.
Using Zero Dep Cover, avoid depreciation
You can retain your automobile in brand-new condition if you choose a zero-depreciation cover when purchasing comprehensive auto insurance. This means that you can avoid the parts' deterioration and, as a result, receive more compensation for related claims.
Comprehensive Auto Insurance Has Restrictions
The following are some policies of this type's exclusions.
Damages result from your car's normal aging and wear and tear.

Your four-wheeler is not shielded from the deterioration of the car's worth over time.

The insurance does not entirely cover damage to car parts composed of fiber or rubber.

The policy does not cover damages and losses brought on by a nuclear catastrophe or war.

Even with comprehensive auto insurance, any claims arising from incidents in which you were operating a vehicle while intoxicated will not be covered.

Your claims won't be compensated if you were operating a vehicle without a current driver's license by law.

A valid license holder must occupy the first passenger side if you operate with a learner's permit, as the law requires.

Damages that occur as a result of the accident are called consequential damages. Your comprehensive auto insurance cannot cover such damages unless included in an add-on.

Take your vehicle out when flooding your city rather than taking the chance. Pay attention to your manufacturer's handbook because such errors cannot be excused.

You could not claim the benefits of an add-on if you did not purchase it when you purchased comprehensive auto insurance.
What Is Third-Party Automobile Insurance?
The most fundamental and legally required type of automobile insurance policy you'll require is third-party coverage if you decide against purchasing comprehensive coverage. As the name implies, this won't cover your damages; it will only shield you from losses and damages you cause to a third party.
Advantages of Purchasing Third-Party Automobile Insurance
Here are some benefits offered by third-party insurance
Coverage for Third-Party Liability
The main goal of third-party auto insurance is to protect you against losses and damages brought on by your vehicle by third parties. Thus, incidents like running into a car or causing damage to someone's personal property are included. In such circumstances, your third-party automobile insurance will cover the losses incurred.
Aids You in Driving Lawfully On Indian Highways
According to the Motor Vehicles Act, each car must at least have a third-party policy to operate on Indian roads lawfully.
Keeps Traffic Fines out of Your Wallet
As it is required by law that all vehicles have third-party insurance, breaking this rule could result in you paying hefty fines. Hence, third-party auto insurance can shield your finances from paying traffic fines.
Exclusions for Third-Party Insurance
The following are some third-party insurance exclusions.
Damage incurred by Driver's Fault
Third-party car insurance, as its name implies, only covers third-party-related liabilities; it excludes coverage for damage to one's vehicle.
Drunk driving or driving without a license
If you were discovered to be driving while intoxicated or without a valid driver's license, your third-party auto insurance would be unable to pay for your third-party claims.
Operating a vehicle without a legal driving license
Your claim will not be paid out if you were driving with a learner's permit and did not have a front-seat passenger with a valid license.
Why Should You Switch to Comprehensive Car Insurance?
These are some arguments in favor of purchasing comprehensive automobile insurance:
To Pay for Your Liability
Get coverage for losses and damages that could affect your vehicle due to accidents, crashes, monsoon flooding, fire, etc.
To Cover Third-Party Liability
Ensure you are protected from third-party-related liabilities, such as those that arise from hitting and damaging someone else's car, hurting a third party, or causing property damage.
For Better Coverage, Tailor Your Policy
By choosing various add-ons and covers, you may further customize your auto insurance and provide your vehicle with better protection. Consider this: You can request our help if you include breakdown assistance or roadside help in your insurance.
You also have the choice to modify your car's IDV under our comprehensive auto insurance policy.
It contains Personal Accident Coverage
With a comprehensive automobile insurance policy, you don't need to choose personal accident coverage separately because everything is automatically covered.
What Things Should You Think About Before Purchasing Auto Insurance?
Check the IDV on your vehicle. Consider your vehicle's age and the appropriate accessories for it simultaneously. If you do not anticipate using your car frequently, third-party car insurance might be appropriate; however, it is advised that you get comprehensive car insurance.
Conclusion
Because it provides all the benefits you'll require under one insurance policy, purchasing comprehensive insurance is often a wiser decision. In addition to helping you comply with traffic laws and rules by covering third-party liabilities, it also assists in covering losses and damages to you and your vehicle, which is what all vehicle owners care about most, as we all know.
Leave a Reply