Best Two-Wheeler Insurance Plans in India 2023
OkBima
24 Apr 2023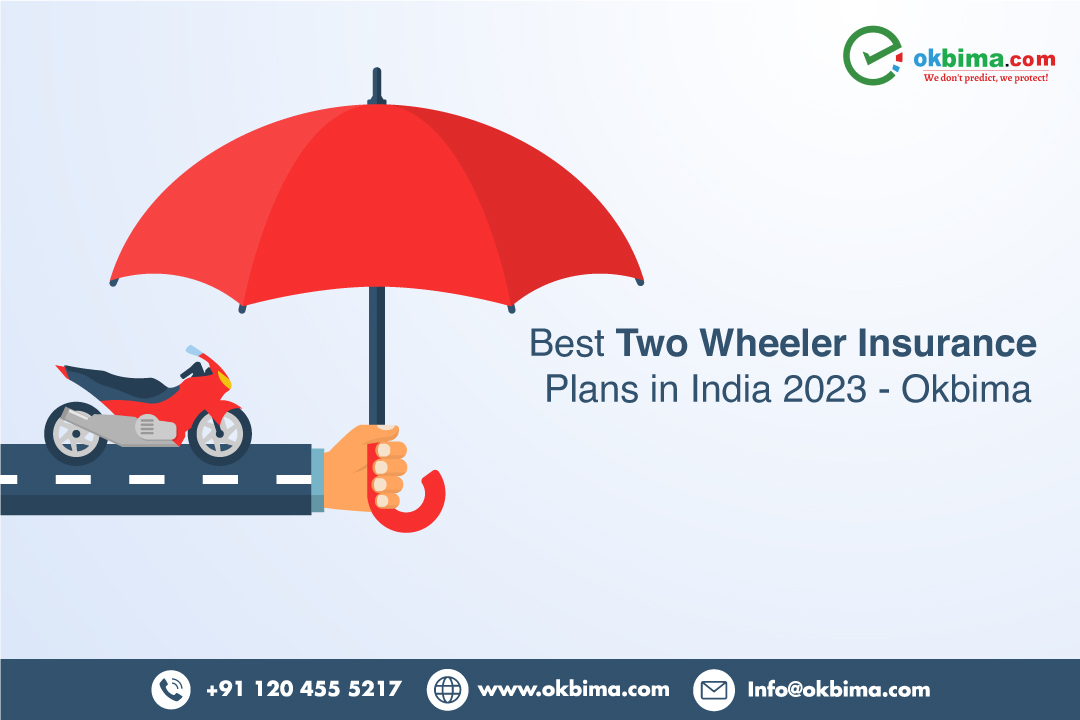 You must have read enough about the advantages and coverage provided by the various kinds of bike insurance coverage when selecting the best two-wheeler insurance plans. Third-party two-wheeler insurance is required in India under The Motor Vehicle Act of 1988. Although it is required by law, insurance also serves as a bonus benefit if a two-wheeler is damaged or destroyed due to other unforeseen circumstances.
In addition to third-party culpability advantages, two-wheeler insurances provide several other advantages, including savings on other insurance policies and free services or repairs for the two-wheeler and its accessories. But, given the vast number of insurance companies in the nation, selecting the best two-wheeler insurance plan in accordance with one's precise needs and the available budget is frequently a challenging undertaking.
Allow this post to assist you and briefly explain two-wheeler insurance and some of its best features and advantages so you can make an educated and sensible choice.
Top Two-Wheeler Insurance Plans in India 2023
By offering protection against potential third-party liabilities, two-wheeler insurance covers all varieties of two-wheelers, including bikes and scooters. Also, on a bigger scale, it protects you against unneeded financial costs in the case of damage or loss sustained due to any accident or incident.
Don't forget to compare several bike insurance quotes and evaluate the features supplied in the policy when you want to purchase a bike insurance policy online. The two-wheeler insurance plans available in India are as follows:
Insurance for two-wheelers from Bajaj Allianz
Bajaj Allianz is a highly sought-after brand for two-wheeler insurance plans due to its reliability, seamless operations, innovative solutions, and solid customer-oriented approach.
These are the main characteristics of Bajaj Allianz's motorcycle insurance:
Compensates for loss or damage to the two-wheeler brought on by terrorism, theft, riots, and other man-made and natural disasters such as earthquakes, cyclones, and floods.
In the event of property damage, unintentional injury, or death, it provides third-party responsibility benefits.
Renewal of an easy online policy
Complimentary services at specific garages
24/7 customer care offering immediate support for any policy- or service-related issue
Fast and painless claim resolution, support, and a variety of complimentary services
information through SMS on the status of claims for the insured two-wheeler
Bharti AXA Motorcycle Insurance
Bharti AXA two-wheeler insurance provides insurance options to meet different customer demands. It offers a comprehensive selection of insurance options for many different models of reliable two-wheeler manufacturers.
The following are the main characteristics of Bharti AXA Insurance:
A flexible, long-term policy that provides rebates of up to 20%
provides a basic level of bike insurance and accidental insurance of Rs. 1 lakh for the pillion rider.
Online two-wheeler insurance purchasing and renewal capability
immediate online release of the policy copy
premium paid once
simple online subscription payment options with multiple payment methods
Members of the Automobile Association members receive discounts, and cashless network shops in India offer free servicing.
An effective 24x7 customer service team provides rapid resolution of claim-related and other policy-related concerns.
offers inexpensive add-ons for complete insurance
Digit Insurance for Two Wheelers
A benefit of purchasing Digit two-wheeler insurance is that it provides complete protection against every incurred third-party obligation and own losses. Earlier, Mr. Kamesh Goyal, the previous CEO of Bajaj Allianz, launched the business.
Let's examine the following characteristics offered by Digit two-wheeler insurance:
Take advantage of the cashless payment option for technicians at the authorized network garages nationwide.
Make the plan specific to the demands
Use a smartphone to settle claims
Call, and your treasured vehicle will be scooped up, fixed, and delivered to your house.
Edelweiss Insurance
Purchasing an Edelweiss two-wheeler insurance coverage is quite simple. You can easily purchase the plan online and then use rapid payment and renewal options.
Take a look at the following essential benefits provided by Edelweiss two-wheeler insurance:
Personalize the two-wheeler insurance policy to meet your needs.
Personal accident insurance is offered.
Simple access to cashless parking
IFFCO Tokio Insurance
The affordable IFFCO Tokio two-wheeler insurance policy offers total financial assistance and meets the demands of people from all walks of life.
The following are some of the main benefits of IFFCO Tokio's two-wheeler insurance:
Simple documentation process when making a purchase
The straightforward and expedited claim settlement procedure
A variety of emergency services are provided.
support services are accessible round-the-clock.
Mahindra Kotak Liberty Two-Wheeler Insurance
The Kotak Mahindra two-wheeler insurances are a wise investment because they offer complete coverage and protect you from any unnecessary financial costs incurred due to accidents or mishaps.
The following are some of the main benefits included in the Kotak Mahindra two-wheeler insurance policy:
The insurance can be quickly and conveniently purchased online.
offers protection from any foreseeable third-party legal obligations
extensive selection of add-on covers available
swift renewal procedure
National Insurance for Two-Wheeler
The national two-wheeler insurance policy protects your valuable item from unfavourable events.
The main benefits of national two-wheeler insurance include the following:
Make the insurance policy specific to your needs.
Online tracking of claim status is possible. No Claim Bonus is offered (NCB)
There is an accessible cashless claim service.
New India Insurance for two wheels
A fully government-owned company, New India Assurance, has expanded its reach outside India's borders to over 27 other nations, giving it a substantial international presence.
The essential characteristics of New India Assurance's two-wheeler insurance are as follows:
quick processing of claims
Excellent grievance resolution system: grievances are addressed within three days of reporting and resolved within 15 days.
Oriental Two Wheeler Insurance
Oriental two-wheeler insurance plans are created in such a way that they take care of all your insurance requirements and give you peace of mind and stress-free living.
The significant characteristics of Oriental two-wheeler insurance are listed below:
There are available covers for a brief time.
There are various insurance policies such as NIL depreciation, personal accident, etc.
Discounts are available in the event that an anti-theft device is installed.
Voluntary deductible for single or multiple plans
Navi Two Wheeler Insurance
Navi Two Wheeler Coverage will properly protect you from any unforeseen catastrophe. Select the right plan that best meets your needs, settle on a two-wheeler insurance plan, and always ride with financial security.
Navi Two Wheeler Coverage provides some of the main benefits:
The simple internet shopping experience
With a price of Rs. 586, you may secure your two-wheeled beauty.
Access to cashless network garages across India
Process for resolving claims is simplified
Two-wheeler insurance from Liberty
Every unforeseen loss or damage that might befall the two-wheeled vehicle and any third-party asset damage or people is covered by the Liberty two-wheeler insurance policy, which guarantees total protection.
The Liberty two-wheeler insurance includes the features listed below as standard:
Often within a week, a quick claim resolution process
a benefit of cashless network garages/workshops
dependable client service
Simple policy purchasing and renewal
Two-Wheel Reliance Insurance
One of the top insurance providers in India is Reliance General Insurance, which provides top-notch two-wheeler insurance packages. It is simple to understand why the company continues to be a popular choice for bike insurance in the country with its wide variety of coverage and a broad range of services and features.
Reliance General Two-Wheeler Insurance's main characteristics are as follows:
Settlement of claims quickly and easily with NEFT
Online tools are provided for simple policy renewal.
No-claims bonus (NCB), the installation of security measures, affiliation with a recognized automobile association, etc.
In addition to third-party responsibility, quick and hassle-free claim settlement is provided if the covered two-wheeler is damaged or lost due to an accident, riot, theft, or other natural disasters.
Complimentary replacement or repair services are offered by any of the over 2,000 network shops located throughout India, including a towing fee waiver of INR 1,500
Customer service is available 24 hours a day by phone or email.
Insurance for two wheels from TATA AIG
While discussing India's best two-wheeler insurance providers, it is difficult to avoid mentioning TATA AIG. The organization routinely ranks with the best insurance providers in the nation thanks to its complete coverage for all two-wheelers and several significant perks.
The following are the primary attributes of TATA AIG bike coverage:
In case of accidents, two-wheelers are picked up for free.
six-month accident repair warranty
Option for directly filing claims online
Seven-day guarantee of claim resolution
covers both total and partial loss
There are various add-on insurance options, including No Claim Bonus coverage, depreciation compensation, daily allotment, key exchange, return invoice, etc.
in the event of an accident, compensate for the loss of personal property inside the insured two-wheelers.
A 24-hour, committed customer support team that responds quickly to any policy or service-related issue
Conclusion
A practical way to commute is on a two-wheeler. Commuters frequently utilize them due to their ease of movement. In addition, numerous families have two or even more bicycles.
By selecting the best two-wheeler insurance plan, you can reduce the inherent dangers that come with the bike. In addition, you'll have a lot of peace of mind if you get the best coverage covering theft. Therefore, you are urged to select a two-wheeler insurance policy from a reputable Indian bike insurance provider that is suitable and comprehensive.
Leave a Reply