Types of Endowment Life Insurance Policy in India
OkBima
01 Sep 2023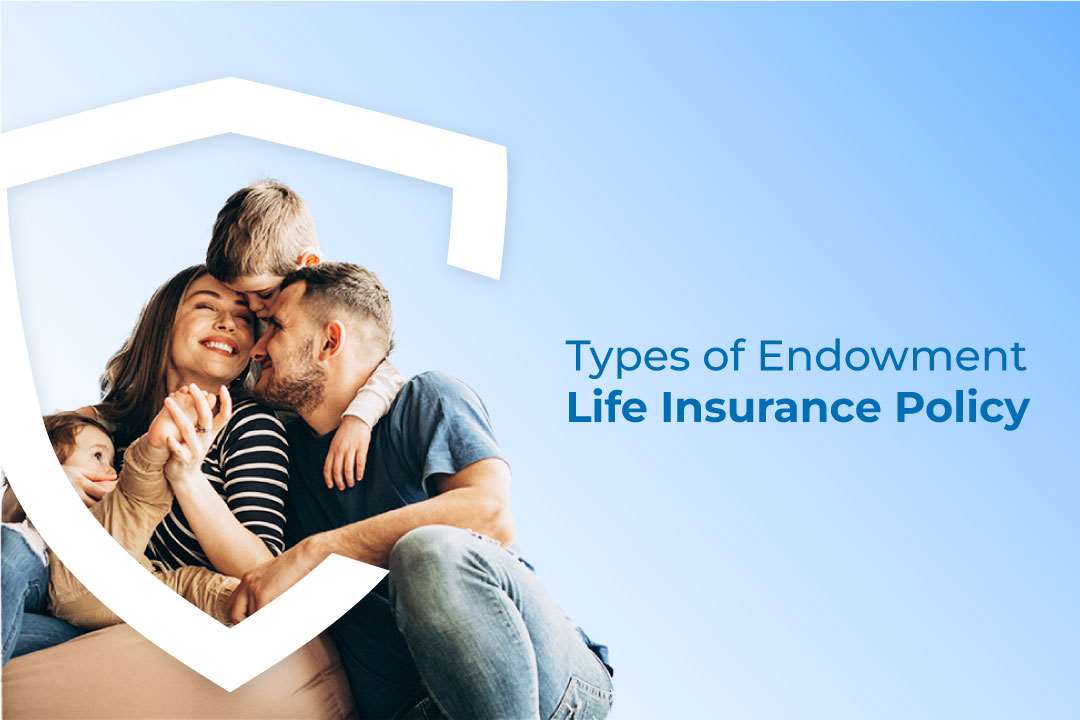 A particular kind of life insurance policy is an Endowment one. It offers low-risk investments for future aspirations as well as life insurance to safeguard those you love in the event of unforeseen circumstances. The Endowment plan's guaranteed savings will protect your money from market swings, which might provide you peace of mind.
Why Invest in Endowment Plans?
Never rely just on one income. Invest in developing a backup source. You must practice disciplined saving if you want to accumulate money. Furthermore, Endowment programs promote regular savings, aiding your long-term wealth building.
For a predetermined time, Endowment policies also provide life insurance. An Endowment strategy offers your family financial protection from future risks in return for affordable premiums.
Additionally, the returns can assist you in achieving your long-term financial objectives, like buying your dream home, paying for your child's school, retiring early, and many other things. You may also borrow against your insurance if you run out of money.
For premiums charged under the 80C Section of the Revenue Tax Act of 1961, you may additionally receive a deduction of up to 1.5 lakhs with this plan. Additionally, the maturity value is tax-free* under Section 10(10D), subject to the abovementioned restrictions.
Endowment strategies are among the most essential financial tools to achieve your goals, especially considering their numerous advantages. But when you buy, you need to know the characteristics of several Endowment strategy types and which best meets your needs.
Various Endowment Plans Available in India 2023
The various Endowment programs are briefly described below.
1. Full-Endowments
These provide you with a sum assured after the insurance period and are sometimes referred to as with-profit Endowment plans. The insurance pays this sum to your nominee in the event of misfortune during this time.
However, the maturity bonus you get is frequently more significant than the sum insured when the policy matures since the insurer gives you incentives in addition to the additional cash. Consequently, total Endowments might enable you to generate sizable revenues over time.
2. Affordable Endowment
This plan's lower premium lets you save money for payments that won't be due for a while. The insurer guarantees the cash that will go to your nominee in the event of an emergency. Yearly bonuses also increase the amount due to you at maturation.
Establishing a fund within a specified timeframe is the primary goal. Thus, you might utilize this kind of Endowment to pay off debt or achieve specific objectives in life.
3. Unitized With-Profit Endowment Strategy
To protect your investments from market volatility, these programs combine the ULIPs' strong earning potential with guaranteed returns. The capital market determines how much money may be made with these schemes.
However, because of a definite payout at maturity, these plans reduce the impact of market downturns. You are certain to get this guaranteed return regardless of how the stock market does. And your candidate receives this sum while you are away. So, consider this item a secure investment choice with a more significant potential return.
4. Policies with A Limited Premium Payment Schedule
This kind of coverage necessitates the payment of premiums for a certain amount of time, for instance, five, ten, or fifteen years. The coverage continues in effect for a longer time, such as Twenty or twenty-five years. It allows the policyholder to pay off their premium obligations faster and extend the time during which they can benefit from the policy's coverage.
5. Money-Back Endowment Plans
Periodic payments are made during the policy term by money-back Endowment policies. Every so often, like every three or five years, the person who bought the insurance receives a portion of the sum insured. At maturity or in the case of the policyholder's demise, the remaining sum insured and any bonuses are paid.
6. Endowment for Nonprofits
With this insurance, you will receive a predetermined lump sum payment at maturity or, in the event of an unfortunate incident, to your nominee. The payment amount stays static as the insurer fails to include bonuses with such plans.These plans are perfect for protecting your family from financial hardship while you are not there.
7. Endowment Plan with Participation
Participating Endowment plans give life insurance and yields. The returns also include bonuses based on the life insurance firm's performance. The plan's total returns rise as a result of this extra sum.
8. Endowment Plan for Non-Participants
The inverse of participation Endowment plans is non-participating Endowment plans. They don't give out incentives from the revenue of the business. Instead, they come with predetermined maturation and death advantages agreed upon at the start of the policy duration.
Characteristics of Endowment Plans
Endowment plans are life insurance policies that offer both protection and savings components, Here are some features of Endowment plans.
1. Life Cover
All kinds of Endowment insurance strategies provide life coverage. In the event of a tragic occurrence within the policy period, the life cover sum is paid to those you love.
2. Benefits At Maturity
A maturity amount is the amount of returns your life insurance policy offers. An Endowment strategy offers a maturity benefit that remains fixed when the plan is purchased. You can reach your financial objectives thanks to these perks of maturity.
3. Payment Flexibility for Premiums
Depending on your chosen plan, the Endowment strategy provides multiple alternatives for premium payments. Depending on your convenience, you can pay the insurance premiums every month, every six months, every year, or all at once.
4. Receiving Payments with Flexibility
Endowment programs allow you to receive payouts monthly, biannual, annual, or lump sum, according to the plan you select and your needs.
5. Low Risk
Endowment programs of all stripes provide rewards with little risk. These programs don't relate to the market. Consequently, the returns are not affected by market volatility.
6. Gains from Taxes
These programs provide tax advantages under the provisions of 80C and 10(10D) Sections of the Income Tax Act of 1961 in accordance with the current tax legislation. In accordance with Section 80C's requirements, the premiums paid for the coverage are deductible from your total taxable income. The advantages obtained meet the requirements for tax benefits within Section 10(10D) of the 1961 Income Tax Act in accordance with the applicable tax* legislation.
7. Quick Financial Gain
The quick income option provides a consistent payout at each insurance year's or month's conclusion. This revenue begins in the first plan year and lasts during the policy's term. Also, upon maturity, you receive a lump payment.
8. Booster Choice and Immediate Income
Along with the instant income option previously described, this option provides a guaranteed sum as a booster every fifth plan year.
9. Option for Deferred Income
In this scenario, you have the choice to delay your income. Depending on your needs, you may decide whether to start receiving your income as soon as the policy's second year or wait until the end of your premium term plus one year. At maturity, you also receive a lump payment.
10. Special Wallet for Savings
The policy provides you with a savings wallet where you can decide to save your benefits rather than use them as payments during the policy's duration. The interest earned on this cash in the wallet is determined by the reverse repo rate posted on the RBI website as of the review date.
The funds may also be utilized to reduce your subsequent premium. Additionally, you can make any partial or complete withdrawals from the wallet.
11. Possibility of Receiving Guaranteed Boosters and Bonuses
The plan provides extra sums in rewards, guaranteed boosters, and terminal bonuses. As a result, the plan's overall returns are increased.
Conclusion
Endowment plans are a great option if you search for the triple advantages of investing, insurance, and tax savings. When purchasing one, you may want to consider the benefit of assured returns with the well-known Lifelong Income plan. With the guaranteed amount secured at maturity, your invested cash is safe.
All of these make this insurance an all-arounder, in addition to the benefit of monetary safety provided by a life cover. It aids in achieving all of your monetary objectives simultaneously. So invest now to ensure the safety and security of your loved ones' future.
Leave a Reply