LIC Term Insurance 1 Crore: Key Features and Benefits
OkBima
25 Apr 2023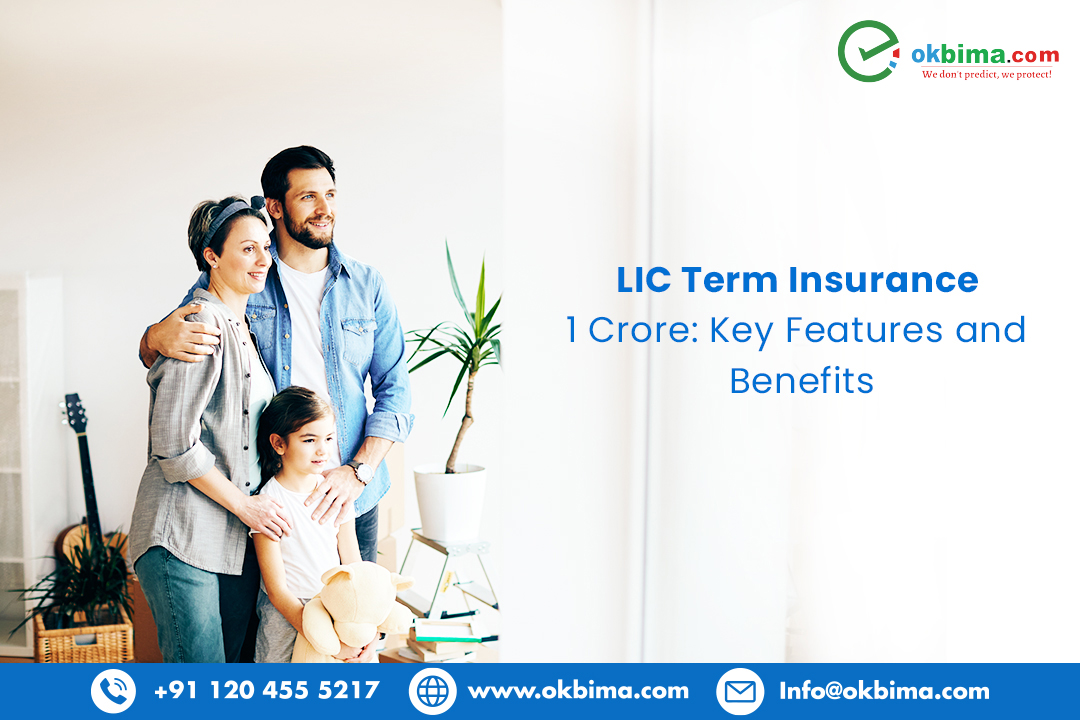 Even before the industry was opened to international multinational corporations, the government-operated insurance provider LIC was one of the pioneers in India's insurance industry. At one point, most Indians had at least a single insurance with LIC. LIC is launching products like the 1 crore life insurance policy, which resonates with the younger population, to remain relevant despite changing times.
The LIC term insurance 1 crore is a tool for a risk protection plan that provides your family with a death benefit of Rs. 1 crore in the terrible event of your passing during the policy period. Your family can use this payment to cover regular and unforeseen expenses, like a sudden medical emergency. To protect your dependent family members, if you are the only source of income, you should get term insurance with an amount guaranteed of Rs. 1 crore.
A Large Sum Guaranteed of Rs. 1 Crore is Offered by Two LIC Term Insurance Plans
Among the most fundamental forms of life insurance is a term insurance plan. In the event that the policyholder passes away during the chosen term insurance policy length, it ensures that the policyholder's family members will get reimbursement up to the amount assured amount.
In addition to death benefits, LIC term insurance 1 Crore provides other advantages, including rider benefits like accidental or early death benefit cover, critical sickness cover, terminal condition cover, and death benefit payout in phases.
Two LIC 1 Crore plans are listed below that are created to satisfy various consumer needs. Depending on your requirements and demands, you can pick from any of the below insurance policies.
The Top 2 Lic 1 Crore Term Insurance Plans In India
With the increasing cost of living, many young people are looking to purchase LIC term insurance 1 crore plans to protect their families financially in the event of unforeseen events like death, disability, illness, etc. LIC term insurance plans with 1 crore in sum assured are now offered at affordable premiums. Let's examine these packages' characteristics and advantages:
Term Plan for LIC Jeevan Amar
It is a standard non-linked, no need for participating LIC term insurance policy created to offer financial security to the insured's family in case of an untimely passing that might occur within the policy term.
These are the pertinent information on the LIC Jeevan Amar term insurance plan's distinctive characteristics and eligibility requirements.
A minimum age of 18 and a maximum age of 65 are required for the insured.
The policy period ranges from 10 to 40 years.
There is no upper limit, and a minimum sum assured stipulated under this policy of Rs. 25 lakhs.
During the policy period, the compensation is payable upon request under one of two circumstances: Options 1 and 2 are a level sum assured and an increasing sum assured, respectively.
On the policyholder's continued existence through the policy's term's end, no maturity benefits are payable.
By paying an extra premium, this policy can be upgraded to include the LIC accident benefit rider.
Instead of receiving the death benefit in one lump sum, the policyholder can receive it over 5, 10, or 15 years.
Premiums can be paid annually or biannually and come in standard or limited premium options.
Under this arrangement, no loans may be obtained.
If the policyholder is not pleased with the conditions and terms of their policy, they have 15 days to return the insurance at no cost to them.
Tech LIC Term Plan
You could have found the LIC Tech Term Plan online when looking for LIC term insurance 1 crore plans. This pure-risk term plan, which is only offered online, promises to give the policyholder's family financial security in the event of the latter's untimely passing through the policy period.
Here is all the information on eligibility and unique aspects of the LIC Tech Term policy.
The minimum and maximum ages for policyholders are 18 and 65, respectively.
The policy period might range from 10 to 40 years.
There is no upper limit, so you can choose a policy with a minimum value assured of Rs. 50 lakh or one with a maximum sum assured of Rs. 1 crore or even more.
Throughout the policy term, you have two alternatives for receiving the death benefit upon death claim request: Options 1 and 2 are a level sum assured and an increasing sum assured, respectively.
If the policyholder lives through the policy term without dying, no maturity rewards are payable.
With this policy, there is an opportunity to add the accident benefit rider from LIC for an extra cost.
If the policyholder requests it at the time of application, they can also collect the death benefits in stages over 5, 10, or 15 years rather than all at once.
With an annual or biannual payment schedule, one can choose between regular and limited premium options.
A loan is impossible under this plan, as with other LIC 1 crore term plans.
The LIC offers policyholders a free peek for a period of thirty days, during which time they may surrender the policy and receive a refund of their premium payments if they are dissatisfied with the conditions and terms of the agreement.
It is now time for you to make a choice after reading about all the benefits of LIC's 1 crore life insurance policies. Although many people may be considering the LIC term insurance 1 crore plan, it is best to analyze the features of all the selected policies, determine your risk tolerance, and choose the best one.
What Advantages Come with a 1 Crore Term Plan?
The LIC Term Insurance benefits are listed below
Extensive Rs. 1 Crore Coverages
Your family will face financial hardship after your passing. Acquiring a 1 Crore term policy might assist you in guaranteeing that your family can support itself going forward.
Reasonable premiums
Compared to other plans, the LIC 1 Crore term insurance has affordable premiums. If you elect to purchase the LIC Tech Term Plan, for instance, as a 30-year-old, you can protect your family's future by making a monthly payment of 1,500 Rupees.
The Tax Advantages
According to Section 80C of the Income Tax Act of 1961, the premiums paid for the LIC Term Insurance are qualified for tax benefits.
Non-smokers are eligible for a premium discount under the program.
The policyholder may choose the amount of insurance in the plan.
A minimum age requirement of 18 years and a maximum age of 75 years are met by the LIC term plan for insurance buyers.
Flexible payment options are available for the LIC term insurance premium rates.
Offers extra rider advantages to increase the policy's coverage.
The insurance coverage allows the insured to live well while collecting the premiums.
LIC online term insurance policies are simple and hassle-free to purchase.
LIC policies have a 98% claims settlement percentage.
Exclusions under LIC's Term Plan
Like other insurance plans, LIC term insurance also has specified exclusions. Here are some of them:
One of the most significant limitations on LIC term insurance coverage is that the plan does not provide coverage in the event that the insurance holder dies by suicide while the policy is still in effect.
So, let's say the policyholder dies by suicide before the end of the first year after the policy's beginning date or revival date. The policy recipient is not given a death benefit in that situation.
80% of the premiums paid up to that point may be given to the plan recipient. Ensures that all LIC term insurance plan premiums have been appropriately paid.
Also, reading the policy copy and knowing the inclusions and limitations is usually advised when purchasing a LIC term plan online.
How Do You Get A Term Insurance Plan From Lic?
You may choose to purchase a LIC term plan in one of the following ways:
Online:
The electronic Term Package, which the company offers, is exclusively accessible online. Therefore, the only steps that insurance companies must take are logging into the firm website, choosing their preferred LIC online term plan, selecting the level of coverage, and providing the necessary information.
The LIC online term plan premium will be calculated with the information entered. The policy will then be issued after the consumer has made the required online premium payment for the chosen LIC online term plan using a credit or debit card or internet banking services.
Brokers:
Brokers, agents, banks, and other financial institutions allow customers to purchase LIC term plans not offered online. The intermediaries assist with the application procedure.
But, while it is quick and hassle-free, purchasing the LIC term plan online is always preferable.
Conclusion
In the case of your untimely demise, your family will get a death benefit of 1 crore under the Tech Term and Jeevan Amar pure risk protection policies from LIC. You can review the eligibility requirements and plan specifics for both insurances before choosing the one that best satisfies your needs.
Leave a Reply