How To Compare Child Plans (Child Education Plans) in India?
OkBima
12 Apr 2023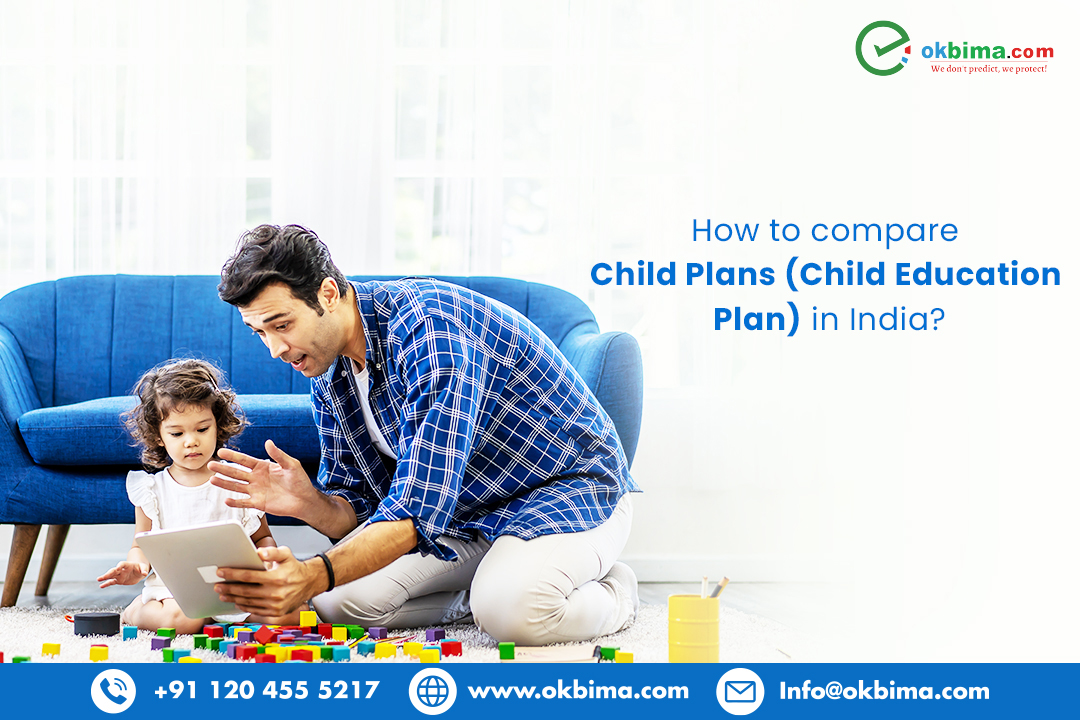 A child education plan aims to support kids as they pursue their educational goals in any field they decide on. In addition to a life insurance component, these plans offer ways to maximize benefits on the payments of required premiums. When paying for higher education, neither you nor your child will face financial hardship thanks to the lump-sum amount after the policy's validity.
If you want to put money aside for your child's future security, you have various options. The three types of savings options are compared in the table below.
Elements To Compare When Purchasing A Child Plan
It's not an easy choice to get a child plan. Choosing the ideal policy for your child may require you to consider several things. Here is a compiled list of critical factors you should consider before buying a child plan to aid you in making an informed choice.
Examine the Crucial Features
To guarantee your child's financial life, look for all the necessary features and rider perks. Find policies with a reasonable assured sum, premiums, discounts, etc.
The ratio of Claims Resolved
Always make it a point to review the insurance provider's CSR. The business will likely approve your future claims if there is a high claim settlement ratio.
Ensure your child receives all the perks at the appropriate age by carefully choosing the policy's tenure. For instance, your child has plenty of time to select his or her educational and career aspirations if they are under ten. The plan's lifespan should be between 10 and 15 years.
Consider your ward's age and needs, such as their education, wedding, and healthcare, when deciding how to allocate the funds. Many plans offer several fund options with a range of risk variables. Invest in debt and equity funds to provide your child with better returns.
What Are the Other Features to Look for?
Insurance companies provide a variety of child education policies. When selecting such plans, there are a couple of factors to consider. The characteristics that will enable you to choose the most effective child education plans to suit your child's needs are listed below.
Early on, purchase a child's education plan.

Compare child insurance plans, premiums, and providers

Check the advantages & the premiums

Verify the paragraph about partial withdrawal.

Investigate the premium waiver benefit.
How Does a Child Insurance Plan Function?
When buying a child plan, you pay for insurance for the chosen time. Your "policy term" is the duration of this particular period, and when it expires, the insurer pays out a lump sum of money from your plan as a maturity benefit.
Then you can utilize this money to pay for your child's schooling or marriage-related costs. The whole life insurance benefit of your policy will be provided to your nominee, who will care for your child if any terrible event occurs during the policy term.
To guarantee the financial security of your children in the future, the insurance company will forego all upcoming premiums for the balance of the policy term.
Importance of Child Education Insurance
With life's volatility, insurance for kids shouldn't be disregarded. Children rely on parents to care for their basic requirements, like feeding and paying for their education. A child shouldn't have to suffer financially after losing a parent to maintain living standards and receive the necessary care and education.
For this reason, as a parent, you must have kid insurance. An online child plan is an investment and insurance combination that aids in budgeting for a child's future needs. In the terrible case that a parent passes away, the insurance component ensures that a child is still safeguarded.
You can build up a large enough corpus to safeguard your child's future through investment. A child's education can be efficiently funded at various phases of development thanks to the flexible rewards included in child plans at significant milestones.
Types of Child Plans
Most insurance companies include child insurance plans as a critical insurance product in their portfolios. These child plans offer convenient, unique, and tailored features and may vary on various parameters depending on the objectives and demands of each individual.
There are several kinds of child education insurance in India, including
Child Plan With One Premium
During the policy term, the policyholder makes one lump sum payment in a single premium, relieving them of the burden of keeping track of the premium payment deadlines. You won't experience difficulties setting up your money to pay the fee. Also, some insurance companies provide enticing discounts or lower the cost of child coverage.
Child Plan Regular Premium
Regular premium child insurance gives you more payment flexibility than a single-premium child education plan online. The premium can be paid monthly, quarterly, semi-annually, or annually.
You receive a three-pronged benefit when you purchase a child ULIP plan, in addition to increased insurance coverage, contributions to the stock market, and rigorous investment practices.
Three advantages signify that, in the event of the death of the covered parent or guardian, the sum assured is paid to the designated beneficiary, in this case, the child. As the policy matures, the future installments are waived, and the maturation amount is paid, ensuring that your children's future dreams come true.
Standard Child Endowment Plan
Terms of child endowment plans function as a typical life insurance policy that provides protection and savings. You can save money over time and receive a lump sum payment when your policy matures.
A child endowment policy will be a vehicle for accomplishing your child's financial goals. The insurance firm retains the final say, but the premiums are in debt instruments. The maturity bonus determines the returns.
Essential Characteristics and Advantages of a Child Education Plan
When buying child insurance, a wide range of fascinating and distinctive advantages are available to the policyholder. It offers an extensive maturity benefit and life insurance to ensure the child's financial future.
Also, a child education plan would allow you to save for your child without rushing from one thing to another.
Let's examine the advantages that the kid education plan offers.
Serves as The Child's Education Fund
A child plan enables you to develop a reserve for your children and save money for future needs. The amount of money from a child education plan accessible to you is contingent upon the terms and regulations of the program and how much you have paid in premiums.
Increasing Returns Help Combat Inflation
Sukanya Samridhi Schemes and other government programmes typically offer substantially lower returns that fall short of inflation. Additionally, a child education plan like a ULIP plan gives you the option of selecting the sort of fund to invest in
Corpus For The Child's Medical Care
While the child investment programmes are active, it is also possible to withdraw money. These partial withdrawals are helpful if the child is admitted to the hospital due to a sickness, a minor accident, or a significant medical condition. The ideal child plan functions as an addition to a person's health insurance policy.
Assists The Child When A Parent Is Not There
Insurance companies will waive the premium when a caregiver (i.e., the insured) dies while the child education plan is still in effect. The beneficiary designated will receive the sum assured under the waiver of premium (WoP) clause, and the insurance company will pay the remaining premiums for the remainder of the policy term.
A lump sum payoff is guaranteed when the ideal child plan is purchased due to the child when the policy reaches maturity. The leading online child education plans often include the premium discount benefit as standard.
The benefit of Premium Waiver
Premium waivers become applicable when the insured person passes away within a specific time frame. This is a built-in element of kid plans. In this case, the beneficiary will receive the sum assured, and the insurer will cover the premiums for the remaining term.
After the tenure, the maturation amount will be paid as specified in the policy statement. You should select a premium exemption rider if the premium exemption is not automatically included with the plan.
Conclusion
Understanding the value of quality education in India is crucial. India is quickly edging closer to being a nation where the wealth divide between the affluent and impoverished is growing. A solid education can open doors for your kid to begin pursuing a fulfilling career.
With current costs, financing higher education is a significant financial burden. It can help ensure that they won't depend on your income when you need it most for retirement.
An investment plan for your child's future must be created for your son or daughter to have a successful profession. Start making financial plans for your child now. A child education plan is a wise financial decision if you have or are planning to have children.
A child plan would safeguard your child in the event of your untimely death, even though your investments may generate a sizable corpus to cover your child's future expenses. Because of this, you should invest in a sound strategy to secure your future and that of your children.
Leave a Reply