What Is The Right Age To Purchase A Health Insurance Policy?
OkBima
08 May 2023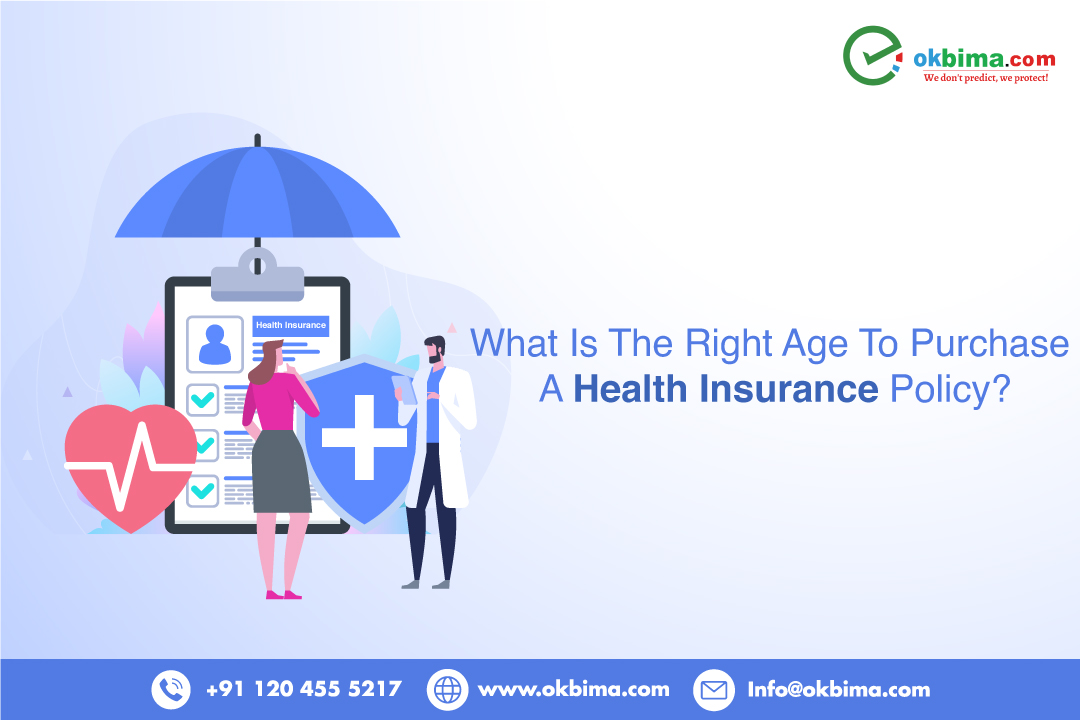 While enrolling in health insurance coverage while you are youthful offers several benefits, like being healthier than senior folks and having a lower risk of becoming ill, it also decreases the price of the plan and makes it more affordable for everyone.
Everyone must purchase a health insurance policy coverage to pay for outrageous medical expenses. When you were younger, you could have regularly heard people or businesses advise you to buy health insurance. If you've ever wondered why, professionals advise you to acquire health insurance today and explain why you should do it immediately rather than later.
What Age Is Ideal?
The ideal age to purchase a health insurance policy coverage is between 20 and 30. You won't owe your family any money, and your health will be excellent at this age.
Let's look at what occurs when you buy health insurance at various ages below
Twenty to thirty years old
You won't have any issue paying the cost of health insurance in your mid-20s since you won't be experiencing any financial hardship. As your rates will be affordable, you may select the best cover for your healthcare need. If you want to have a family soon, you can afford to get supplementary insurance and pass the waiting period, such as maternity insurance. A lifetime subscription option and a compounding reward are also easily accessible.
When Duties Smack You in the Face
If you decide to get health insurance in your thirties, you may select a family health care plan if you haven't done so. You could also need insurance for your partner and kids if you consider establishing a household now. You might also wish to buy additional insurance to cover ailments like heart issues, whose signs are known to appear around this age. As a result, there is a greater likelihood that health insurance prices will increase as you age, and you will be more likely to file a claim.
When You Approach Middle Age
You should think about getting higher-coverage health insurance in your 40s and 50s. At this point in your life, you will have the most financial obligations and a higher risk of developing health issues, including artery disease and hypertension. As a result, you might need to purchase a policy with more extensive coverage that includes critical illness and sum-covered augmentation features. Your premium will undoubtedly be more significant than average at this time. Although you may somewhat cut your cost by selecting family floater coverage, it will still be costly.
During or After Retirement
You will pay a large premium to purchase a health insurance policy when you reach 60. It is because you are more prone to significant health conditions at this age, which may necessitate hospitalisation and protracted therapy. A conventional health policy won't be sufficient at this stage of your life; therefore, you may require senior citizen medical insurance. They will have a higher insured amount and cover things like AYUSH treatment, in-home hospitalisations, organ transplant charges, etc.
Why Should You Get Health Insurance Before Turning 30?
The nation's kids frequently exhibit a mindset in which they downplay the value of health insurance since they believe there won't be any serious medical issues.
Many people put off signing up for such essential insurance policies out of fear of losing money since they believe waiting until later in life will enhance their rewards.
Young people who adopt such a mentality frequently miss out on the substantial advantages that health insurance policies offer. Here are a few advantages:
Take advantage of health insurance plans with lower premium costs
It is expectedly rare for people between the ages of 25 and 30 to receive a serious illness diagnosis. The likelihood of contracting any critical condition, barring unanticipated or inherited disorders, is extremely low, which minimises an insurance provider's obligation.
These considerations explain why insurance policies obtained between the ages of 25 and 30 frequently have lower premiums than those obtained later in life. People often save a lot of money by purchasing a health insurance policy coverage since the rates charged do not change over time.
Get a No Claims Bonus for Each Year Without Making a Claim
A no-claim bonus is given for each year that follows in which no claims are filed against a health insurance coverage. Your future responsibility can be decreased using the bonus you obtained, thus lowering your monthly expenditures.
A bigger sum assured may be provided to insured persons in circumstances of extended non-claim years.
Little To No Financial Burden
Life involves unforeseen circumstances. Without any symptom that seems to remain, it is impossible to forecast a car accident or identify severe medical conditions. Yet, in the occurrence of such terrible health issues, the cost of the therapy may be high.
In these circumstances, having a medical insurance policy in your name is helpful since it enables you to receive treatment at prestigious facilities without breaking the bank.
Getting Around a Corporate Health Insurance Policy's Restrictions
Newly hired people frequently believe that corporate health insurance coverage set up in their names by their company will cover all of their medical needs. Although the employer bears a substantial share of the premium cost, lowering the obligation of salaried employees, the coverage provided is typically restricted.
Consumers are sometimes obliged to pay a sizable amount of their medical expenses out of pocket, known as a co-payment clause. Room rent caps are also included in group policies. Also, the medical insurance facility ends if you decide to leave the designated firm. Purchase a health insurance policy separately eliminates these restrictions, providing full safety for people.
You can take advantage of the full amount guaranteed every year until maturity. Moreover, suppose two severe medical situations exist within a year but are unrelated. In that case, you can renew your sum covered, allowing you to receive up to double that amount each year.
Your Mental Health May Be Improved
According to the WHO, 6.5% of Indians are thought to be suffering from some mental illness. These findings were reported by the National Care of Medical Health (NCMH). Moreover, compared to other American demographic groups, those under 44 have the greatest suicide rates.
These data indicate the importance of treating such mental problems with the proper psychiatric assistance and treatment. Large insurance companies understand this requirement and include appropriate coverage in their plans. Therefore, you are eligible for reimbursement for any costs related to psychiatric treatment and taking prescribed drugs.
Make a tax benefit claim
Tax refunds can be obtained against the cash spent on health insurance premium payments, albeit this is not particular to young persons. In addition, section 80D exclusions from premium expenditures can be requested for up to Rs. 25,000 per year.
Younger individuals experience reduced claim refusal rates
In particular, if a candidate has previously been diagnosed with a specific ailment, applying for health insurance coverage later in life may result in their denial.
Treatment for such complicated illnesses may fall entirely on your shoulders, probably putting a hole in your wallet. However, if you sign up for a robust health insurance policy in your early years, these issues won't occur.
Broad Protection is Assured through Coverage
When you purchase a health insurance policy coverage from a reputable provider, you are entitled to various benefits. A medical examination, outpatient department fees, and costs associated with alternative therapies are all eligible for reimbursement.
When people obtain basic health insurance coverage, they will receive the most advantages from their investment.
Get free yearly health examinations
Annual checkups are made possible by several insurance companies health insurance policies. As a result, you may stay on the cutting edge of any medical ailment that may emerge in the upcoming years by taking the proper measures and beginning treatment as soon as feasible.
Negate The Waiting Period's Impact
A set waiting period exists before pre-existing conditions are treated under numerous insurance policies. Depending on the condition and expense of therapy, this waiting time might last anywhere from 30 days to 4 years.
While pre-existing ailments have a two-year waiting time, a typical health insurance plan does not cover newly discovered diseases discovered during the prior 30-90 days. An individual has plenty of time to wait out the hold periods because the likelihood of submitting a claim when purchasing a health insurance policy coverage at 30 is minimal. As a result, once the allotted time has passed, claims may be successfully paid out as needed.
Conclusion
Health insurance is essential for living stress-free and comfortably. No of your age, having adequate health insurance ensures that the rest of your life is well-lived. Therefore, the earliest chance is the ideal moment to purchase a health insurance policy coverage, even if you must do it at any given time.
If it is cheap, you should get medical insurance as early as you are 20. Also, if you purchase in advance, your purse will gain more. That's how easy it is.
Leave a Reply