Should You Buy a Super Top-up Health Insurance Policy?
OkBima
12 May 2023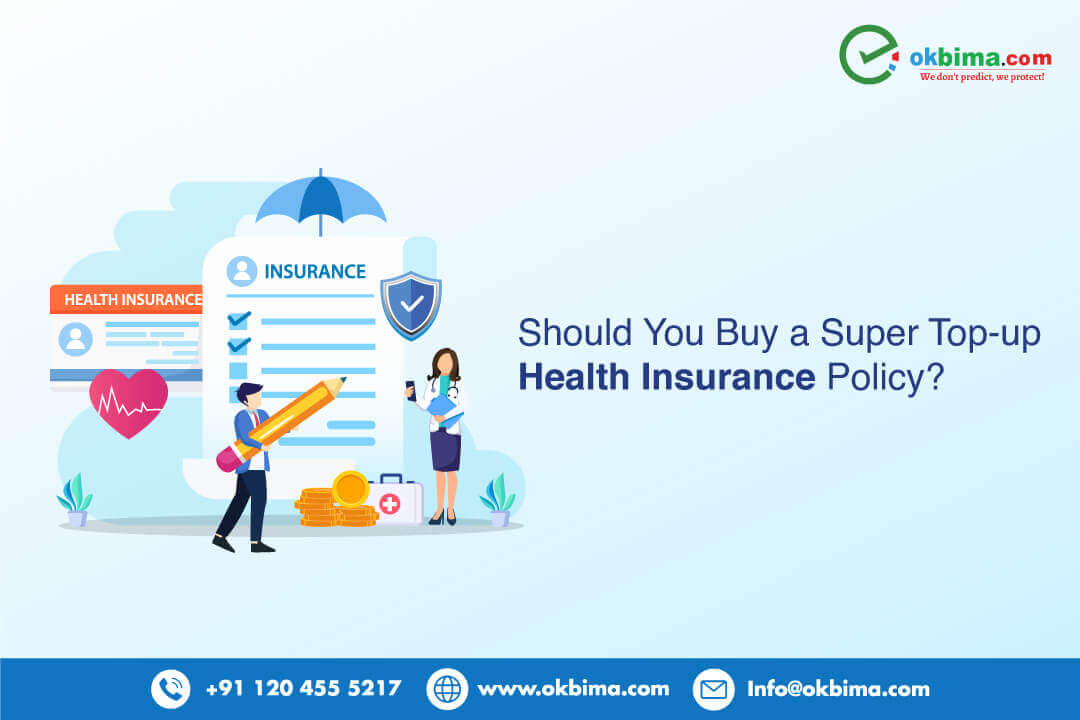 Although top-up and super top-up health insurance policies have long been recognized as a valuable method to increase health insurance at a reasonable price, super top-ups were traditionally reserved for older folks or those with diseases that required frequent hospitalization. Super top-ups, however, have become more prevalent in recent years, and most insurers are now gradually discontinuing top-up plans while still offering them.
Some insurers, such as New India Assurance and Royal Sundaram, offer top-up plans. In contrast, super top-ups are the sole coverage provided by Niva Bupa, Reliance, and Care, and Liberty offers both. Does purchasing these plans thus make sense for you?
The Forms Of Supplemental Health Insurance in India
Top-up health insurance plans come in two different varieties in India. Details are provided below.
Top-up policy
The Top-up Insurance Policy replenishes the Insurance Coverage up to a Certain Value to offer insurance coverage. When medical costs exceed the deductible threshold, the Top-up plan is activated.
Super Top-up Plan
This plan offers extra insurance protection after medical expenses exceed the threshold cap. The super top-up health insurance policy considers all claims within a policy period, while the Top-up policy just considers the specified threshold for each claim.
When medical expenditures exceed the sum-covered limit, both plans offer financial assistance. They vary in coverage but share the same primary objective of enhancing financial security. In other words, if your claim exceeds the threshold level, a top-up health insurance policy would offer cash assistance for medical expenses.
On the other hand, a super top-up health insurance policy will pay for medical expenditures whenever one or more claims (within the policy period) add up to more than the threshold level. The distinctions between Top-up and Super Top-up in insurance coverage are shown in the following example. Apart from having an Rs. 3 lakh deductible, the base plan's sum covered is Rs. 5 lahks.
Functioning Of Top-Up And Super Top-Up Plans
Both are based on the idea that a deductible threshold must be met to activate them. As a result, before the super top-up health insurance policy may be utilized, you must pay a deductible of Rs. 5 lahks using your own wallet or via a base cover that comes with a super top-up plan of Rs. 20 lahks.
A super top-up plan allows several hospitalization expenditures in a policy year to be added to the deductible limit. In contrast, a top-up plan only allows you to pass the deductible threshold after a single hospitalization. So, a top-up policy will only cover the second claim if you have two medical costs in a plan year that total Rs. 4 lahks or Rs. 7 lahks.
Both claims will be paid out in a mega top-up since the total amount owed in a year, Rs. 11 lakh, exceeds the Rs. 5 lakh limit.
What Do Deductibles In Top-Up/Super Top-Up Plans Mean?
The cap imposed by health insurance companies is called a "deductible." The insurance business benefits from it since it serves as a security net and deters consumers from making frequent and unnecessary medical claims.
The policyholder must pay for this sum. Insurance companies for healthcare do not pay deductibles. In addition to the deductibles, they merely pay the excess. Essentially, you are responsible for covering your share of the deductibles, and the insurer will cover the excess, up to the amount of your coverage, for you.
What Happens When You Purchase Super Top-Up Plans?
Financial ruin might result from having more than one episode necessitating hospitalization due to the recent rise in medical hyperinflation and hospitalization expenditures. However, given that they are inexpensive plans with a maximum insured amount of Rs. 1 crore, super top-up health insurance policies provide a valuable method for enhancing health coverage.
They have a cheap premium because of the large deductibles and because the underwriting may differ. The plans may not have features like OPD coverage, wellness benefits, cumulative bonuses, etc.
To cover the deductible amount, these should be purchased along with a low-base plan. Instead of a premium base plan that costs between Rs. 30 and 35 lakh, you may get a base plan for between Rs. 3-5 lakh and a super top-up plan for Rs. 25 and 30 lakh.
Most of the perks and savings are tied to the basic package, not the super top-up plan, so avoid purchasing a low-cost base plan only to save money. Purchasing the same provider's basic and super top-up health insurance policies is crucial to guaranteeing cashless reimbursement.
Just the basic cashless reimbursement plan would be taken into consideration by hospitals. It will be considered if the super top-up comes from the same business.
When Should You Use A Super Top-Up Policy And When Should You Not?
To avoid having a super top-up that doesn't cover all the services and leaves you paying out of pocket, choose a business offering basic and super top-up health insurance policies with comparable features. A family floater policy could also be a wise choice, especially if one of the participants has a chronic disease. However, avoid including your parents since this will increase the cost.
Age, location, the scope of coverage, and deductible percentage all affect the price. The premium decreases as the deductible increases. In addition to receiving a concession, you will be eligible for the deductible limits if you pick a 2- or 3-year plan rather than a 1-year plan.
The following restrictions should be considered, even if they can be the greatest alternative to improve your health coverage.
Consider If The Base Plan Has A Restoration Option
Consider your options for the size and eventual purchase of a super top-up cover if you have a sizable base plan with a completely restored sum protected inside a policy year. An ideal cover size may be readily achieved with the restore benefit, which is also less expensive. But be sure the restoration benefit applies if the same ailments return. Get a bigger top-up plan if the basic plan is modest.
No Cashless Transactions With Various Insurers
The hospital will only consider the standard plan for cashless compensation if you've got a standard plan from one carrier and a super top-up health insurance policy from another. You must pay the remaining balance out of pocket and then request a reimbursement if this amount is used up. The full amount may be paid without cash if the same insurer issues the basic and super top-up policies.
Buy Plans Individually Despite Employer Coverage
Avoid purchasing a super top-up policy from a different insurer—or even the same one—independently if you just have a basic plan via your workplace. It is because you would have to pay the deductible out of pocket if you switched jobs and your basic insurance coverage expired. Thus, purchase a second set independently, even if your company provides you with a base and top-up.
Avoid Purchasing An Extremely Limited Basic Plan
Most insurers tie base plan benefits, not top-up plan benefits, to the base plan features like accumulating bonuses, renewing discounts, etc. But be careful not to have a too-low base cover because it will yield very little accumulated benefits.
Fewer Features
Try to choose a super top-up health insurance policies with characteristics similar to the basic plan because the latter could not be as complete: the waiting time for pre-existing conditions might be longer, it might have room rent limitations, or it might not include OPD coverage.
How important it is to get Super Top-up and Top-up health insurance
You need to get a Super Top-up or Top-up health insurance policy for the following reasons.
Escalating Prices Of Healthcare
The price of healthcare is unquestionably going up every day. As a result, you require a comprehensive insurance policy with a greater maximum payout than a standard health insurance plan. After the total insured amount has been used up, you should have the choice of a Top-up or Super Top-up plan, which offers you an advantage.
Extra Insurance Coverage
If a greater total insured amount were unnecessary, top-up plans (normal or Super Top-up) wouldn't be offered. These programs provide additional protection on top of the standard coverage or a company health insurance policy for much less money than individual health insurance.
More Coverage For Older Citizens
A Top-up plan offers full insurance at a much-reduced cost for health insurance.
One Extra Advantage Of The Current Strategy
Top-up and Super Top-up policies give more coverage than standard health insurance policies for unanticipated situations.
Added Tax Savings
Top-up and Super Top-up policies give tax advantages, much like other health insurance policies.
Conclusion
Experts advise choosing a Super top-up plan if you want to protect yourself against the possibility of having a chronic condition requiring over one hospital stay each year. The premium is less expensive than purchasing an individual healthcare plan with a greater coverage level.
Seniors who routinely undergo medical treatments will also find it acceptable. Plans that offer cumulative coverage and super top-ups might be pretty helpful in this situation. You can go to okbima to get an additional policy or a super additional medical plan.
Leave a Reply