List of Diseases Covered by Bajaj Allianz Health Insurance Plans
OkBima
29 May 2023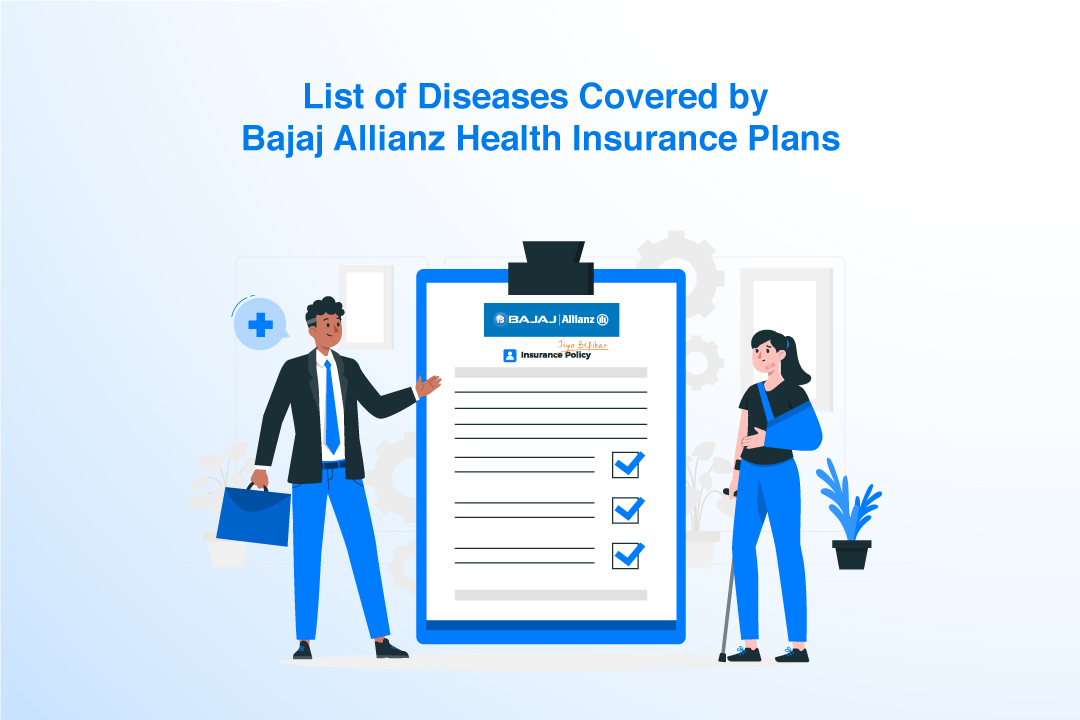 Almost anyone has stayed unscathed due to escalating medical costs. However, more individuals are becoming aware of the need for health insurance when the epidemic is finally over. To learn more about the ailments covered by a Bajaj Allianz medical insurance plan, continue reading.
What Health Plans Does Bajaj Allianz Insurance Offer?
Several health insurance policies are available for Bajaj Allianz General Insurance Services customers. Most such plans offer coverage for pre- and post-hospitalization costs, maternity expenditures, ambulance services, ICU fees, and other medical expenses incurred due to hospitalization.
Specific Bajaj Allianz health insurance policies, such as the Bajaj Allianz Corona Kavach policy and Bajaj Allianz Criti care plan, among others, also include disease-specific plans. Consider some of the available Bajaj Allianz medical insurance policies:
Health Guard Plan by Bajaj Allianz
Health Infinity from Bajaj Allianz
Aarogya Sanjeevani Bajaj Allianz Policy
Corona Kavach Bajaj Allianz Policies
The Bajaj Allianz Criti Care Plan
m-Care Policy of Bajaj Allianz
Silver Health Insurance from Bajaj Allianz
Extra Care Plan of Bajaj Allianz
Critical Illness Coverage from Bajaj Allianz
These policies come in various insurance amounts, from Rs. 10,000 to Rs. 50 lakh. You may receive treatments at more than 6,000 network hospitals without paying a copay while still protected by these plans.
List of Illnesses Protected by a Bajaj Allianz Medical Insurance Policy
Several Bajaj Allianz health insurance policies include coverage for the following illnesses:
COVID-19
The globe was shut down for over two years due to the highly contagious coronavirus, or COVID-19. Those with comorbid conditions are particularly at risk from this illness, which can also be expensive. The Corona Kavach Policy, Individual Bajaj Allianz Health Insurance Plan, Aarogya Sanjeevani Plan, and other policies from Bajaj Allianz all cover this illness.
Cardiac Conditions
A problem with the cardiovascular system is usually the cause of heart disorders, which is one of the scariest of all diseases. Hypertension, heart rhythm issues, coronary heart disease, cardiomyopathy, etc., are a few examples. The cost of surgical treatments alone is high. Still, fortunately, many of these conditions are covered by various Bajaj Allianz Health insurance plans, such as the Health-Guard Policy, Health Infinity Policy, and Criti Care Policy by Bajaj Allianz.
Cancer and Malignancies
Due to improper cell proliferation, cancer is becoming a more widespread illness that affects many body areas. Only the early stages of this deadly condition may be managed, which requires costly operations, chemotherapy, etc. The Critical Illness Insurance, Health-Guard Policy, and Criti Care Policy from Bajaj Allianz cover certain kinds of cancer.
Brain Tumor
Unchecked brain cell development strains the neural tissue in a brain tumor, a deadly disorder resulting in brain damage. A costly, complicated operation is required to remove the tumor. Several policies, including Health Care Supreme, Criti Care Policy, Critical Illness Policy, and Extra Care Policy from Bajaj Allianz, will cover the cost of this procedure and any treatment-related costs.
Arthritis and Joint Problems
One of the most prevalent illnesses that affect older adults is arthritis. It is incredibly painful and frequently limits mobility. This ailment is brought on by inflammation in the joints. The problem typically calls for joint replacement or revision, which several insurance plans will pay for. All three health insurance policies from Bajaj Allianz—Health Guard, Arogya Sanjeevani, and Silver Health—cover arthritis. However, there is a 48-month waiting period that must pass.
Kidney Disorders
Kidney issues can bring on severe health disorders that impair regular bodily function. Even minor problems like cysts, kidney stones, and chronic kidney illnesses can be painful and uncomfortable if they are severe. Many insurance policies, such as Health Care Supreme, Critical Illness Policy, Criti Care Policy, and Silver Health Policy from Bajaj Allianz, cover the cost of treatment for various renal disorders.
Cataract
The lens inside the eye becomes obscured as a cataract develops, necessitating replacement to restore vision. Many health insurance policies cover cataract surgery, including the Silver Health Policy, the Health-Guard Policy, and the Aarogya Sanjeevani Policy from Bajaj Allianz.
India's Health Insurance System
Your financial security in the event of a medical emergency is ensured by health insurance. You are already in a troubled state of mind when engaged in a medical emergency. A small reassurance that your medical expenses are being paid for may be a relief during these trying times. It is equally crucial to understand what your medical insurance plan covers as it is just to have one, albeit this is not an adequate substitute.

The following qualities and advantages are required in all health insurance policies:
spending on medical care
hospitalization costs from before to after
costs associated with nursery
Ambulance fees
No claim bonus at the end of each renewal year with no claims,
Pre-existing illness waiting periods as short as possible
affordable premiums
In the market, there are a variety of health insurance options. The aforementioned Bajaj Allianz health insurance plans provide a variety of coverages and health insurance advantages tailored to the demands of various medical conditions.
Health Insurance Policies Exclusions
The majority of you worry about your health insurance claim being denied. Yet, a straightforward strategy can be used to prevent denying a health insurance claim, even if we recognize that it might seem intimidating.
The key is to carefully read your policy document to be aware of the coverage, inclusions, advantages, characteristics, SI (Sum Insured) you choose, and exclusions of your Bajaj Allianz Health insurance. Successfully handling your claim settlement procedure depends on being aware of certain coverage specifics.
Your claims will be automatically denied if you submit it for a service excluded from your coverage. We also don't want you to experience this. So that you can file a healthcare insurance claim without running into any issues, below are some typical limitations of your medical insurance plan that you should be aware of.
Pre-Existing Conditions
Conditions that existed before the start of your insurance plans, such as cancer, diabetes, heart disease, renal disease, and more, are not instantly covered. Instead, they have an initial waiting time, after which the insurance for the same begins. Each insurance provider has a different waiting time that might range from one to three years for pre-existing conditions.
Alternative Treatments
Bajaj Allianz Health Insurance offers coverage for hospitalization using alternative medicines like Ayurveda and homeopathy. However, some therapies, such as naturopathic medicine, acupressure, electromagnetic therapy, acupuncture, etc., are not covered by health insurance programs.
Cosmetic Procedures
Bajaj Allianz Health insurance coverage does not often cover cosmetic procedures like hair transplants unless a doctor has specifically ordered them in response to a severe occurrence, such as a deformity brought on by an accident or a severe sickness like cancer.
Dental Procedures
Health insurance plans only cover unintentional harm to your own tooth structure, subject to hospitalization. Often, health insurance policies do not cover any other dental operation.
Self-Inflicted Injuries
Your health insurance won't pay for self-inflicted injuries if you seek care. Furthermore, no health insurance plan will pay for harm brought on by suicidal attempts that can leave the victim incapacitated or hurt. Furthermore, your coverage does not cover injuries sustained during a battle.
Other Ailments and Therapies
Some illnesses and treatments, such as those for HIV, contagious diseases, addiction therapies, procedures linked to fertility, HIV-associated treatments, treatment options involving the consumption of any substance, including alcohol and drugs, and experimental treatments, are not covered by health insurance.
Required Waiting Time
Most health insurance policies exclude coverage during a required waiting period, which may last between one month and three months. The good news is that your health insurance coverage starts to cover accidental injuries immediately.
How Does Bajaj Allianz Critical Illness Insurance Work?
You may have severe effects from a catastrophic illness. Along with drastically altering your lifestyle, you could also have to deal with unforeseen and sometimes costly medical expenditures. When the incidence of severe illnesses rises, and medical aid expenses rise, the price of hospitalizations and medical care also rises.
As severe illnesses can sometimes result in the loss of jobs for a family's only wage earner, each individual must arm themselves with health insurance that protects them. Critical Illness Bajaj Allianz Health insurance was created to shield you and your family from the economic strain of such life-threatening illnesses.
Critical Illness Health insurance offers protection against certain illnesses that pose a significant risk to life, including cancer, organ transplant rejection, heart attack, and others. The following list contains the 10 medical problems that this policy covers:
Surgery involving an aorta transplant
Cancer
bypass surgery on the coronary arteries
The first cardiovascular disease (myocardial infarction)
failed kidney
Large-scale organ transplant
with lingering symptoms of multiple sclerosis
limbs that are permanently paralyzed
Hypertension in the pulmonary arteries.
Stroke
Conclusion
Health disorders and diseases are covered under various Bajaj Allianz medical insurance plans, although it is advised to confirm the details. To receive prompt medical attention and other insurance benefits, it is also crucial to know the waiting periods for specific conditions.
If all else fails, you can always take help from the experts from Okbima.com and make a better purchase decision. Knowing the many kinds of medical insurance plans available and what they cover is best.
On the Internet, you can also read the comprehensive brochures for each insurance plan to learn more about the particular and general exclusions. To avoid any issues while submitting a claim, it is crucial to understand your medical coverage's limitations, as previously discussed.
Leave a Reply