Is Cataract Surgery Covered Under Health Insurance?
OkBima
09 May 2023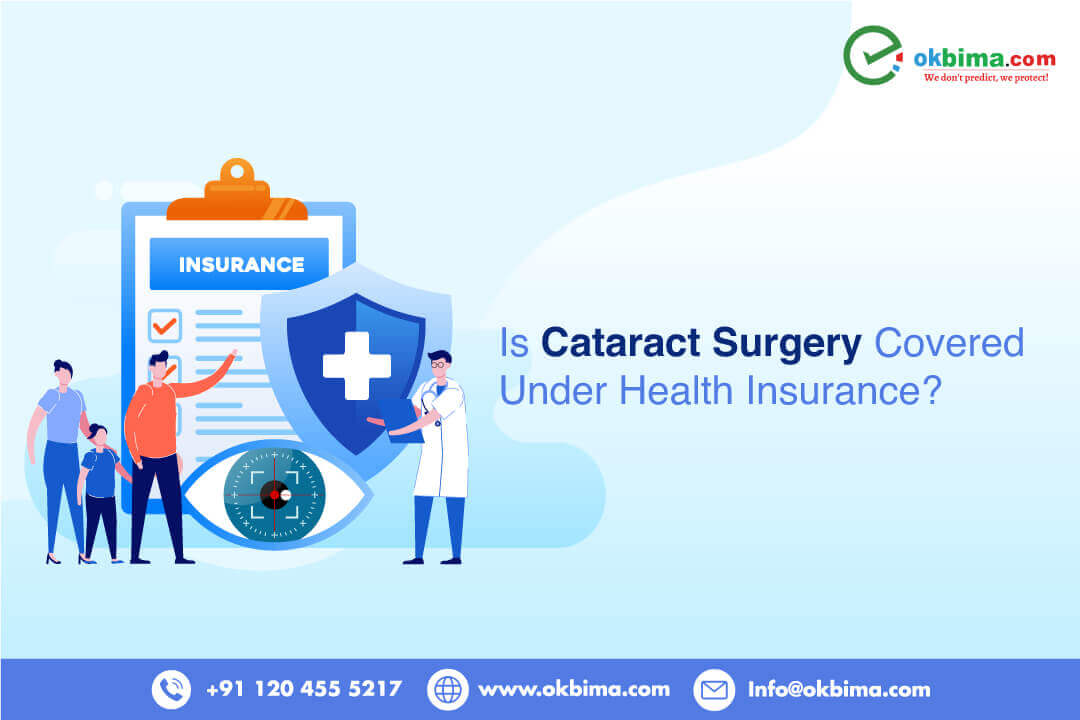 Your medical insurance policy may have cataract surgery covered under health insurance. All health insurance plans might not cover it, but; some do. Hence, purchasing insurance should be carefully reviewed in the policy specifics. You can examine the policy documentation and summary of inclusions to see if you already have health insurance coverage.
Meaning of Cataract
A thick, clouded region develops in the eye's lens, resulting in cataracts, an eye disorder. It is especially prevalent in older persons and can cause partial or total blindness if left untreated.
How is cataract brought on?
There isn't just one cause or factor that leads to cataracts. Although cataract is frequently found in older people, a trend in India finds cataract affecting people as young as 50.
Diabetes' increase in incidence and prevalence in India may be one of the causes. Below are some causes of cataracts, in addition to diabetes and advancing age:
Excess production of oxidants or oxygen molecules that have undergone chemical modification as a result of typical daily activities
Smoking
UV radiation
Usage of corticosteroids and other drugs for a prolonged period
Certain disorders, such as diabetes,
Damage from prior eye injuries, and
Radiation therapy
Cataract symptoms
Here are some cataract symptoms to look out for
foggy vision
difficulty seeing at night,
fading colours,
increased sensitivity to glare,
haloes from nearby lights
the necessity for frequent adjustments in prescription glasses, and
double vision in the afflicted eye
Cataract Types
A common myth is that there is only one type of cataract and that it only affects those who are elderly. It's not accurate, though. Depending on its source and the eye area it affects, a cataract can take many distinct forms. The many cataractous conditions are listed below:
Nuclear cataracts
Develop in the centre of the lens, turning the nucleus (the centre of the eye) yellowish-brown.
Cortical cataract
The nucleus's periphery develops in a wedge-like shape.
Posterior capsular cataracts
The posterior portion of the eye lens is affected by posterior capsular cataracts, which develop much more quickly than other types of cataracts.
Congenital cataracts
These cataracts develop from birth or are present from birth rather than being brought on by ageing.
Secondary cataracts
These are those brought on by a different illness or underlying health issue, such as diabetes or glaucoma. Moreover, cataracts can develop even after using steroids and other drugs.
Traumatic cataracts
Traumatic cataracts can occasionally form following an eye injury; however, this can also take years.
Radiation cataracts
After undergoing radiation therapy for cancer, cataracts caused by radiation can develop.
Looking at this, you might realise the importance of having cataract surgery covered under health insurance plans.
When is Cataract Surgery Needed?
Surgery is advised as a method of treating ocular cataracts. By surgery, you may protect yourself from further consequences and have good eyesight.
Restores eyesight
Cataract surgery is effective in restoring your safety and vision. The procedure takes no more than 30 minutes, thanks to medical advances. You require a few days of relaxation, and there is no overnight hospitalisation. There are no adverse effects, and it improves your vision.
There is no naturopathic cure for cataracts
Regrettably, the National Institutes of Health have determined that there is no natural treatment for cataracts other than surgery. Thus, you will require cataract surgery to restore your eyesight and cope with the signs and effects of a cataract.
Prevents partial or total blindness
If the symptoms are left untreated, they may worsen and result in partial or total blindness. Consequently, whether you or your family are suggested, they should always get cataract surgery. Depending on one's age and eye health, untreated cataracts can result in partial or total blindness in the afflicted eye. In addition, if the problem is not addressed (via surgery), symptoms can worsen over time. Hence, if you or a parent has a cataract in either of your eyes, it's crucial to choose to have the condition treated with surgery to prevent further vision loss.
Enhances living quality
Cataract surgery will improve your eyesight, allowing you to live independently and comfortably while watching TV.
Therefore, you need cataract surgery covered under health insurance plans you invest in.
What Is The Price Of A Cataract Operation In India?
Cataracts are prevalent among people in India who reach 40 years of age and older. With ageing comes an increase in the likelihood of the illness. The typical cost of cataract surgery in India might range between Rs 35,000 and Rs 85,000.
There are several different kinds of cataract procedures, with phacoemulsification being the most popular. You must have it done per your doctor's advice, age, city of residence, and chosen facility. In India, surgical costs are similarly variable. Here, we've listed the three cataract procedures available in India:
Phacoemulsification cataract surgery for the damaged eye, this cataract surgery is around Rs 40,000.
Surgery for an extracapsular cataract would cost between Rs. 40,000 and Rs. 60,000 for the damaged eye.
Bladeless cataract surgery is a novel and sophisticated procedure since no incision techniques are utilised. Therefore, its price range can range between Rs 85,000 and Rs 120,000, making it more costly than other operations.
Yet, prices might differ from one location to the next and from one hospital to another. Therefore, experts suggest buyers ensure that cataract surgery is covered under health insurance plans.
Time Spent Waiting for Cataract Surgery
You must wait for the required amount before making a claim. Most health insurance organisations impose an average 2-year waiting time for cataract-related procedures. Just be careful to examine whether cataract surgery is covered under health insurance and the insurance terms while purchasing or chatting with your insurer.
What Is The Maximum Amount Of The Claim?
The health insurance company determines the maximum claim amount for cataract insurance. For the maximum amount you may be compensated, consult the policy's terms and exclusions. Hence, it is necessary to ensure that cataract surgery is covered under health insurance.
Certain insurance providers may have claim caps for health insurance coverage related to cataracts. However, other providers may not have any such claim caps in place. Therefore, the amount is chosen, which may be based on a percentage of the insured amount. One example is 10% of the insured amount, to a maximum value of Rs 25,000.
Does A Group Health Plan Covers Cataract Surgery?
Specific group health insurance policies cover the operation for cataracts, yes. To do the same, speak with your company or review the policy. Under a group, a health care plan may not have a waiting period and might have cataract surgery covered under health insurance.
Are There Any Risk Factors That Are Associated With Cataracts?
Tragically, some people are more prone to developing cataracts than others. Among these risk elements are:
advancing age,
high alcohol consumption,
chronic smoking,
obesity,
elevated blood pressure,
familial history of cataracts,
prior eye injury,
Diabetes,
X-ray radiation exposure,
cancer therapies, and
excessive sun exposure
Can Cataracts Be Avoided In Some Cases?
Indeed, you can avoid developing cataracts in the first place by taking care of your eyes and general health. To stop cataracts, try some of the following:
To safeguard yourself from UVB radiation, use sunglasses outside.
Make sure to have routine eye exams, especially if you have eye issues often or are over 65.
Often consume antioxidant-rich fruits and vegetables.
Always aim to have a healthy weight, which is crucial for preventing other disorders.
Be mindful of your blood sugar levels if you have diabetes.
How do you file an insurance claim for cataract surgery?
As a result of medical improvements in treatment, cataract surgery is covered under health insurance under the category of "Daycare Treatments," which means that it is a medical procedure that requires a hospital stay of fewer than 24 hours.
Below is information on how to submit a claim if you need cataract surgery and are covered by our insurance:
Payment Claim Reimbursement
Within two days after admission, or sooner, inform the insurance of the planned operation and hospital stay. To minimise any unforeseen issues, it is preferable to notify them before the procedure because cataract surgeries are typically arranged in advance.
They will offer you a hyperlink to submit all of your necessary papers when you phone or email them to let them know. After the operation, they'll see that the refund is given as soon as possible.
Cashless Claim
The network hospital where you wish to get your cataract surgery might be selected first if you decide to proceed with a cashless claim. First, provide at least 72 hours notice to the insurer or TPA. Then, request the cashless application form by displaying your e-health identification at the network facility desk. If everything is in order, your case will be handled there and then.
Conclusion
Cataracts most frequently afflict India's population, sometimes called clouding of the eyes. Throughout time, changes in eye health occur gradually. Vision blurriness and double vision are signs of cataracts in the eyes.
In addition, the illness impairs natural vision, which is quite uncomfortable. Blindness or visual loss results from this over time. Thus, a suitable eye treatment regimen is required to eradicate the cataract. Investing in cataract surgery covered under health insurance plans is wise.
Leave a Reply