How Much Health Insurance Do You Need in India?
OkBima
12 Jun 2023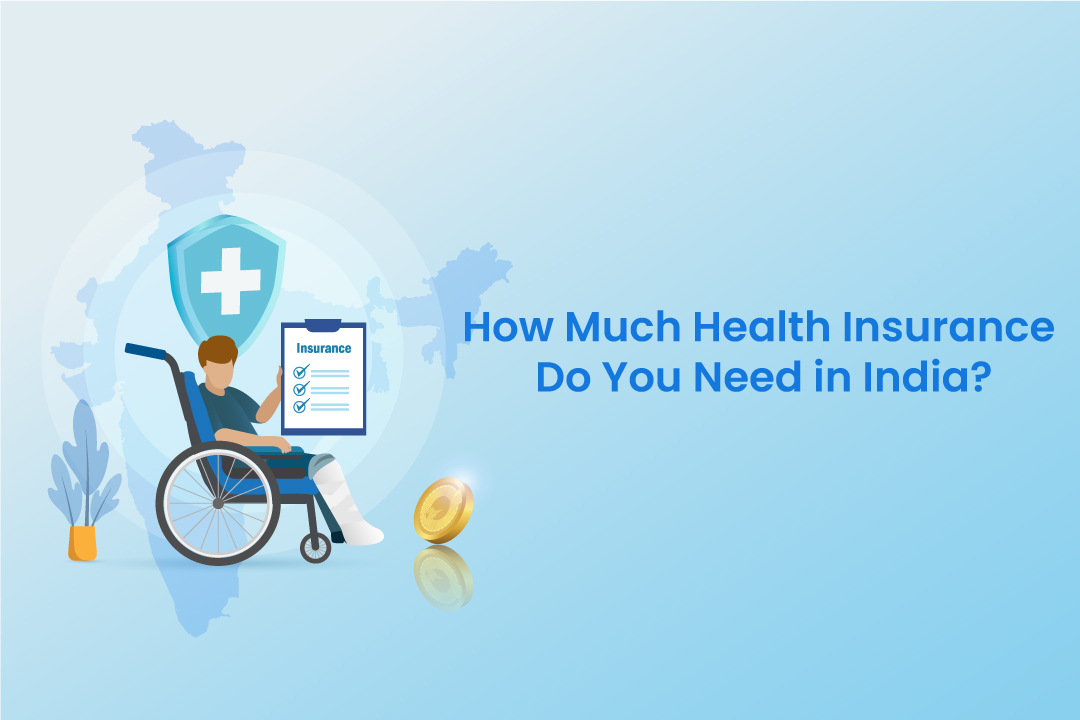 Life is unpredictable. Therefore anyone can get sick or injured at any time. Due to the rising healthcare expenses in India, medical insurance has become more necessary than a choice. Due to the COVID-19 epidemic, many individuals have bought medical insurance, but acquiring the right coverage is still crucial. Let's calculate the right amount of health insurance coverage for diverse individuals.
Which Type of Health Insurance Should You Purchase?
Individuals have different needs when it comes to health coverage. For your health insurance, you must adhere to two principles to select the appropriate level of coverage. They are as follows:
A minimum of 50% of your yearly salary should be covered by medical insurance.
Your coverage amount should financially cover a bypass graft for coronary artery disease at your desired hospital.
How Much Medical Insurance Should You Purchase?
You must choose a coverage amount for your health insurance that is at least equal to half of your yearly salary. For instance, you must choose health insurance with a minimum of 4 lakh rupee coverage if your yearly salary is Rs 8 lakh.
However, during the past few years, healthcare costs have significantly climbed. So even though choosing a less expensive health plan would only cover 50% of your pay in this case, it could not be sufficient. As a result, insurance professionals advise customers to choose a minimum amount of Rs 5 lakh in health insurance coverage.
Additionally, the likelihood of filing a claim in your early 20s decreases if you get insurance. Thus, you can use a cumulative bonus to cover your total without further expense.
Which Sort of Health Insurance Cover for Your Family Should You Buy?
You must get medical insurance coverage for every member of your family and yourself. It is because any person in your family might experience a medical emergency at any moment, and a single hospitalization could significantly deplete your family's funds.
Insurance professionals recommend that a household of four have an essential health insurance policy of at least Rs. 10 lakhs to prevent such a predicament.
You may choose a family floater policy and significantly lower your premiums when buy health insurance for your family. All covered family members who participate in family floater policies split a single sum covered floating.
Your overall premium expenses are reduced since you don't need to purchase individual health coverage for each family member. Additionally, it's unlikely that all family members will apply in the same year.
For instance, assume that the cost of premiums for a family health insurance plan worth Rs. 10 lakh is Rs. 20,000, and the premium for a personal health policy worth Rs. 5 lakh is Rs. 10,000. Thus, you must pay an aggregate premium of Rs. 40,000 if you purchase individual health coverage for four family members.
However, a family medical insurance policy costs Rs 20,000 and offers the same protection on a floater basis.
How Much Medical Coverage Should You Get For Your Elderly Parents?
The most vulnerable groups to diseases and illnesses are parents and older people. Due to their higher risk of contracting a disease or being admitted to the hospital, they need health insurance the most.
Given the current rate of medical inflation, a simple surgical operation may set you back Rs 1 lakh. A bypass surgery could cost as much as Rs 2 lakh in a reputable institution.
Therefore, health insurance in India with a substantial sum guaranteed amount is necessary for seniors and parents. For sufficient coverage, you may choose health insurance for seniors or health coverage for parents with a big sum insured.
The payment will rise along with the amount of insurance, though. In addition, since older persons are more inclined to file a claim, insurance firms typically charge higher premiums to them. Therefore, be cautious about evaluating the health insurance policy's premium before purchasing it for your parents or elderly relatives.
Selecting the Right Health Insurance Coverage
As you select the appropriate level of health insurance coverage, bear the following considerations in mind:
Age of the Insured
When determining the level of coverage, it is crucial to consider the insured's age. Higher sum insured amounts should be chosen as a person's age increases. Because you become more susceptible to illness as you get older, this is crucial.
Medical History
Before deciding on a policy's coverage level, reviewing a person's medical history is advisable. Someone who has a pre-existing condition might need to make repeated claims. In light of this, if you have a bigger budget, you should choose a higher coverage amount. Likewise, you should choose a bigger coverage quantity if you have a medical history.
Type of Hospital
When choosing the quantity of insurance coverage, it is crucial to consider the facility where you want to receive treatment. Your medical care will cost more at a reputable private hospital than at a government one. As a result, those who like reputable private hospitals should select a bigger insured sum.
Capacity to Afford
When choosing the level of coverage, it is crucial to consider your income and capacity to pay for a health insurance plan. Choosing a reduced insured sum is your only option if your financial situation is constrained and you cannot pay expensive premiums.
Supplemental Plan
If you already have a health insurance policy that isn't your primary coverage, such as a group policy, you might choose to get medical insurance for a reduced premium. As a result, you do not need to purchase a second policy with an extensive coverage level. You already have health coverage via your work.
How Much Health Insurance Coverage Is Enough?
After considering your age and the number of dependents, you should choose a plan. The total value insured should be more significant if your spouse is over 40, you have dependent children, and your parents also rely on you. Additionally, take into account the following:
Analyzing any possible health hazards. For instance, the risk of cardiovascular disease, cerebrovascular accidents, and other consequences increases if you have type 2 diabetes. Before selecting the finest protection, always take these uncertainties into account.
Examine the network facilities in your city to discover if the insurance provider is available there.
Examine the advantages of the employer-sponsored health insurance program you are a part of.
Find out if your insurance covers cutting-edge medical procedures by contacting your provider. The inclusions and exclusions of the health insurance are detailed in the policy's fine print, which may be found in the policy booklet.
What Does Having Insufficient Coverage Mean?
The requirement for health insurance in India has grown due to lifestyle changes. As a result, the number of people in India looking to purchase health insurance policies has increased, but so too have the number of cases of underinsurance. Choosing a policy of their choosing and paying the premium associated with it marks the end of the health insurance purchase procedure in the eyes of most individuals.
However, people don't often know how much coverage they have is enough until they file a claim under their insurance. Therefore, being underinsured is equivalent to being uninsured, given current medical costs. These two scenarios of underinsurance for people are listed below.
Having Insufficient Coverage
The sum covered may be minimal even with the right health insurance plan. If your future needs have been incorrectly predicted, this can happen. In addition, some policyholders could have chosen to pay lesser rates by foregoing some coverage.
Not Enough Coverage
The policyholder, in this case, may have bought a health insurance policy with a suitable sum of the sum covered. But he (or she) might not be aware that the insurance in question does not cover some serious illnesses until after filing a claim.
This situation can occur if the insurance policyholder doesn't conduct enough research before buying his coverage. It emphasizes how critical it is to study the small print before purchasing a health insurance policy.
How Can You Reduce Your Chances of Being Underinsured?
Follow the instructions below to access enough health insurance coverage and avoid the danger of being underinsured.
Consider and evaluate your existing financial status. Before choosing a health insurance strategy, you must consider your way of life, your routines, and your family's medical history.
Always read the small print of a medical coverage plan. Before purchasing a health insurance plan, one must consider exclusions and restrictions.
Choose a sum insured that will offer coverage for you and the people you depend on. This amount needs to be 30 to 50-fold your present annual income.
Conclusion
Everybody today has to purchase medical coverage with a sufficient amount insured. Choosing best health insurance plan in India, a number that will adequately cover your medical costs now and in the future, is crucial. When choosing the appropriate level of coverage for your health policy, consider the restrictions and considerations described above.
Leave a Reply