Health Insurance for Smokers: Get Covered in a Few Steps
OkBima
23 May 2023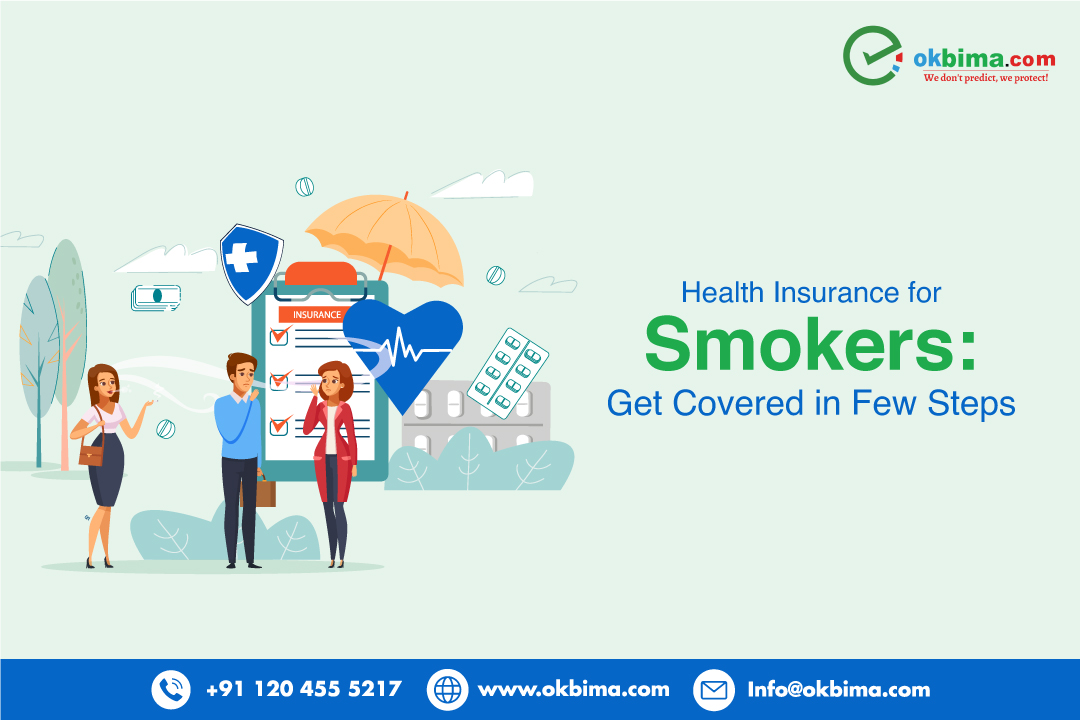 A significant problem in India is smoking. 25% of smokers only need to use cigarettes once daily, compared to 47% who smoke many times daily. Many smokers lack health insurance despite the dangers to their health. The notion that smokers cannot purchase health policy for smoking is one that most people buy into. To find out if this rumor is true, keep reading.
Smoking And The Cost Of Health Insurance
Your insurance premiums may increase if you smoke or use other tobacco products more frequently. Therefore, before submitting health insurance for smokers application, you should know the following information.
The smoker concept also includes using vaporizers, such as e-cigarettes.
A medical exam can be required. Results from the exam will aid insurance firms in choosing premium coverage.
To determine frequent smokers and determine the cost of coverage, insurance firms rely on medical examinations. Mucus, hair, excrement, and blood all contain nicotine residues.
The power to look into your smoking habits lies with the insurance companies. Your smoking habits will be revealed in your medical records (including urine and blood tests).
Health Insurance - Is It Available To Smokers?
The quick response would be Yes. You can buy health insurance for smokers even if you smoke. Smokers in India can get medical insurance from several insurance providers. In reality, the Insurance Regulatory & Development Authority of India (IRDAI) has mandated that insurers provide health policies to smokers.
Insurance companies classify everyone who puffs or chews tobacco over four times per week as a smoker. It includes those who smoke cigarettes, cigars, pipes, hookahs, or snuff. In addition, someone is regarded as a smoker if they smoked more than four times per week during the previous six months.
Does Smoking Affect the Cost of Health Insurance?
The cost of identical health insurance coverage is greater for smokers than nonsmokers. This is because smokers are more likely than nonsmokers to develop several health issues, which is a straightforward explanation. In addition, smokers are at a greater risk for insurance providers since they're more prone to file a claim.
The quantity of cigars a person smokes daily or weekly determines how much the premium will vary. As a result, the premium paid to the insurance provider will increase directly to the number of cigarettes consumed. For instance, a smoker who puffs on seven cigarettes per day will pay a larger premium than someone who smokes roughly three cigarettes daily.
The costs might go up significantly if the insurance provider notices that a smoker's health worsens due to their smoking habits. The insurance provider will only refuse to issue coverage in extreme circumstances where excessive smoking causes serious health concerns.
This is why smokers must undergo a pre-policy medical examination before they can buy health insurance for smokers. In addition, it aids in deciding on the appropriate premium payment for the insurance provider.
Exactly Why Should You Tell Your Insurer That You Smoke?
Being truthful and informing your insurance about your smoking history is crucial. You risk having your claims denied, getting charged with insurance fraud, and other legal repercussions if you misrepresent the facts in your claims.
Additionally, be truthful about how frequently you smoke. For example, it might be problematic to claim to smoke 2 cigarettes per day but consume 6 cigarettes daily. Medical examinations performed at the moment of claims can immediately result in the denial of such claims if nicotine is found in blood or urine testing.
As a result, do not be afraid to admit that you smoke or have long since stopped. Buying health insurance for smokers at a higher premium is worthwhile compared to hefty medical expenses that may completely deplete your resources.
Why Smokers Must Have Health Insurance and Can't Choose to Go Without It?
According to the ICICI Lombard Study findings, 67% of smokers increased their cigarette consumption due to stress brought on by the epidemic. The damaging effects of smoking on the internal organs are illustrated fairly graphically by this. Smoking is linked to several health issues, including the following.
Persistent obstructive lung disease (COPD)
Lung cancer
Complications and respiratory illnesses
Emphysema
Cardiac conditions
Dental cancer
Stroke
Complications during pregnancy
Osteoporosis
The long-term, perhaps years-long treatments needed for smoking-related disorders are necessary. In a few months, they may go through someone's whole life's savings. The expense of medical care will also rise in the following years due to growing inflation.
Medical insurance for smokers is the only method to safeguard one's hard-earned cash while maintaining financial readiness for any medical issues brought on by smoking.
Why Do Smokers Pay More for Health Insurance?
Smoking increases your risk of developing lung infections, cancer, and other serious illnesses, one of the main variables affecting your health insurance cost. As these health problems may increase the likelihood that smokers may later file claims for medical insurance, this puts them at a higher risk. Thus, a greater premium will be assessed.
Smokers may pay nearly twice as much for health insurance as nonsmokers. If a 25-year-old nonsmoker pays 6,000 per year for an insurance cover of 1 crore, for instance, a smoker in the same generation would spend around 10,000 annually to insure the same amount.
The cost of health insurance for smokers is 30% to 40% greater for smokers than nonsmokers, according to the National Library of Medicine. In addition, smokers must cover a bigger share of the cost of health insurance due to their increased health risks.
A buyer of insurance is classified as a smoker if they have used tobacco within the previous 12 years of the application date, as defined by the Insurance Regulatory and Development Authority of India (IRDAI).
Your health insurance premiums will increase if you smoke, but you shouldn't allow that to stop you from getting coverage. Smokers may suffer from several serious health issues, rendering this financial security essential for them in the case of a medical emergency.
Health Insurance Advantages for Smokers
The following are some of the main advantages of medical insurance for tobacco users:
Supporting You Financially To Pay Your Medical Bills
The ability to receive financial assistance in the case of an emergency medical situation is the main advantage of buying health insurance for smokers. If the smoker is hurt in an accident or is identified as having a disease, the insurance company must pay for their medical bills under the policy.
Hospitals That Accept Cashless Payments
Insured smokers nationwide with medical insurance also have the advantage of cashless hospitalization. You only need to be admitted to one of the insurance provider's network hospitals to receive treatment without paying for it.
Totally Free Medical Exams
No matter what kind of smoking a person does, most insurance plans provide free preventative health checkups to their covered members. However, specific plans to give this feature require a series of claim-free years, while others offer it yearly.
Tax Advantages
Segment 80D of the Revenue Tax Act of 1961 (ITA) allows smokers to get tax advantages on the premium they pay to buy health insurance for smokers.
Should You Disclose Your Smoking Status To Your Health Insurer?
Even if you smoke just sometimes, you must inform your insurance provider of your smoking habits when purchasing medical expense coverage. In the future, the insurance provider may deny your claims for deception or omission if you conceal it or provide false information. You will thus forfeit the premium payment money as well.
Health Insurance Is Available To Smokers With Existing Conditions
Smokers can purchase a healthcare insurance policy with pre-existing conditions like hypertension and diabetes. However, they would have to undergo a pre-acceptance medical examination and pay a higher premium. In addition, a 2- to 4-year waiting time will be required before pre-existing conditions are covered.
What If You Falsify Your Smoking History While Applying For Health Insurance?
If you falsely declare that you smoke while buying health insurance for smokers, the insurance provider can deny your claim later. By giving incorrect information, the insurance might easily reject your claims, and you risk legal problems.
How Could Smokers Lower Their Medical Insurance Costs?
Smokers can cut their health insurance costs in one of the following methods:
By selecting a higher deductible
By acquiring a family floater policy
By comparing several insurances online at Okbima.com
By purchasing long-term health insurance for smokers
Conclusion
It is clear from this that because smoking increases one's chance of developing health problems, one must be ready to spend more on health insurance for smokers. Yet, even if smoking makes your insurance rates more expensive, you should still choose to purchase coverage.
Smokers are more likely to have various major health problems, making this financial security crucial in the event of an unexpected medical expense.
Leave a Reply