Health Insurance for a Down Syndrome Child in India
OkBima
01 Jun 2023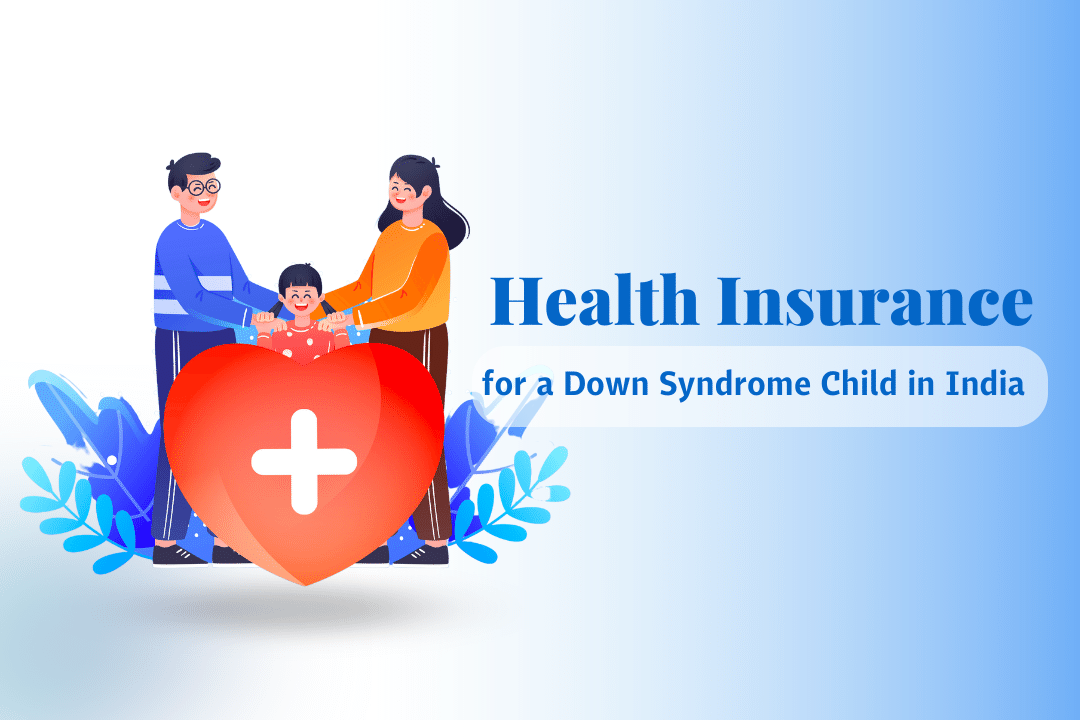 Introduction
India has one of the highest rates of genetic diseases like Down syndrome. In our nation, 23,000 to 29,000 kids are diagnosed with Down syndrome yearly. So it makes sense that many expectant parents are interested in learning more about health insurance in India for children with Down syndrome. So let's learn everything there is to know about Down syndrome health insurance in this article, including whether or not health insurance will cover it.
What is Down syndrome?
A newborn is diagnosed with an additional copy of chromosome 21 when they have Down syndrome, a genetic condition. When newborn children are still in their mother's womb, aberrant cell division occurs, which is the source of the condition. The existence of this extra chromosome brings on physical deformities and intellectual development delays in the newborn.
Because Down syndrome is incurable, it must be managed throughout life. Also, those with Down syndrome are at an increased risk of contracting diseases, including congenital heart abnormalities, leukemia, Alzheimer's, sleep apnea, autoimmune disease, gastrointestinal problems, obesity, eyesight impairments, etc.
What are common symptoms of Down syndrome?
Several unique physical characteristics are signs of Down syndrome:
Face that has been lowered
Reduced neck
Little ears and head
Sluggish muscle tone
Miniature hands and feet
The iris of both eyes are covered in tiny white dots.
Diminutive height
Tongue enlargement or protrusion
Slanted upward eyes
Joint slack
A delay in cognitive and mental development is another issue faced by children with Down syndrome, including
Poor judgment
Language and speech development, delayed.
Acting impulsively
Lacking focus
Sleep issues delayed potty training
Are Health Insurance Plans in India Going to Cover Down Syndrome?
There is Down syndrome health insurance under Indian health insurance programs. A few health plans in India offer medical insurance for a kid with Down syndrome, including Bajaj Allianz Care Joy Pregnancy and Women Special Critical Illness Insurance. Providing the kid lives for 30 days following diagnosis, and it will pay for the treatment of a newborn with Down syndrome.
However, Down syndrome is not covered by most Indian health insurance plans. This is because Down Syndrome falls under the category of an external congenital condition, permanently excluded under the rules of the Insurance Regulatory & Development Authority of India (IRDAI).
Moreover, specific health insurance policies may pay for the price of specific medicines and treatments needed to treat the symptoms of Down syndrome. Speech therapy, for instance, can be given to a kid with Down syndrome who is having trouble speaking. In this situation, a few Indian Down syndrome health insurance companies could cover the expenses of speech therapy.
Similarly, specific Indian health plans may cover the expense of treating leukemia and Alzheimer's diseases originating from Down syndrome. To find out if your insurance provider covers Down syndrome or any therapies used to address its symptoms, it is always advisable to call them.
Before filing a claim, it is essential to find out whether there is a waiting period that applies if your health insurance covers the cost of treating Down syndrome. This is because Down Syndrome might be seen as a pre-existing sickness as it is present from birth.
The Unknown Facts Regarding Down Syndrome
These are seven essential facts to know about Down syndrome:
Down syndrome affects 1 throughout every 830 infants born in India.
Because of an absence of understanding, Down Syndrome kills children in India.
The risk that a baby will have Down syndrome increases with the mother's age.
Down syndrome cannot be avoided entirely.
Alzheimer's disease and other illnesses are more likely to affect people with Down syndrome.
Children with Down syndrome can live up to 50–60 years old and have a higher quality of life if appropriate behavior and early intervention are implemented.
If an older sibling has Down syndrome, the infant is more likely to be affected.
What Do Child Medical Insurance Policies Consist of?
The Down syndrome health insurance is designed to satisfy your children's medical needs by safeguarding and providing coverage for various illnesses. So, with children's health insurance, parents may receive reimbursement for expenses incurred due to various children's healthcare needs, such as immunization, routine check-ups, hospitalization, etc.
So, by protecting their financial health, parents may simply ensure their children's healthcare needs with a healthcare plan for kids. Children as young as newborns, pre-teens, and adolescents can all get child insurance coverage. These laws help parents give their kids access to high-quality medical treatment.
What are the classifications of Down syndrome?
You should be aware of the many forms of Down syndrome:
Trisomy 21
This kind of Down syndrome is the most prevalent. It is characterized by three distinct chromosomal copies in the cells. It has been shown that this group accounts for 95% of all incidences of Down syndrome.
Translocation
According to statistics, just 3% of all instances of Down syndrome are translocation cases. The extra 21 chromosome pairs are present in this, yet they are not a copy; instead, they have been translocated or connected.
Mosaic
Down syndrome is another kind of Down syndrome that makes up just 2% of all instances. Some cells in this unusual form of Down syndrome contain an additional set of chromosomes, while the rest only have the standard two copies.
Yet, because virtually all of the symptoms are the same throughout the three types stated above, it might be challenging to classify these types solely on their symptoms.
Care for People with Down Syndrome
As Down syndrome is a chronic medical condition, as was already said, there is no known treatment. But on the other hand, frequent medical check-ups can undoubtedly aid in lowering Down syndrome chances. Also, a kid with Down syndrome can participate in physical therapy and other treatments that will aid with the normal growth of speech and other skills. Also, buying a Down syndrome health insurance policy for a kid with Down syndrome is a good idea because it may help give financial aid in case of health emergencies.
Indian Children's Health Insurance Plans
Plans for child health insurance are separated into two groups, namely;
Individual medical coverage for children and
Family floater medical insurance
Based on the family floater amount insured, the Family Floater policies provide coverage for a kid and 4–7 family members. These programs are practical since they provide comprehensive coverage at an affordable price.
On the other hand, individual Down syndrome health insurance for kids lets each youngster have their own coverage. These policies are just enough for the child's medical requirements and are offered on an individual sum-covered basis. As a result, child health insurance programs are typically offered at modest costs.
Advantages of Selecting Children's Health Insurance Plans
Children's health insurance policies provide the following advantages, among others:
The Health of Your Child Will Be Covered Entirely
Child health insurance plans' main advantage is that they give the insured, which is the kid, protection against various medical expenses. These expenses include the cost of hospitalization, the cost of medical care for injuries sustained in accidents, the cost of vaccinations, the appointment fee (OPD), and others. Also, some plans could include free health examinations as a valuation service.
Security of the Finances
Your child can be safeguarded financially against any unforeseen medical emergency with the help of a child Down syndrome health insurance policy.
Receive the Finest Care
With a child medical insurance policy, you can choose the best care for your kid without making any sacrifices. Hence, you may still provide your child with the greatest care despite if you are struggling financially.
Cashless Hospitalization
Much as with conventional health plans, cashless hospitalization is a benefit that is also available with kid health insurance policies. To utilize this service, you can admit your child for treatment at a network hospital.
Discounts or Rebates
If you purchase health insurance for your kid based on the sum covered, you may also qualify for a family concession on the premium.
Tax Benefits
You can also take advantage of tax reductions per Section 80D on the amount you pay for a child's medical insurance policy.
Here are some suggestions for choosing economical children's Down syndrome health insurance:
Examine the policy's coverage provisions.
Examine the SI or amount insured.
Purchase a policy that covers newborns
Review the policy exclusions.
Choose the right accessories.
A comparison of kid health insurance coverage
Conclusion
There is no treatment or prevention for Down syndrome, a chronic condition. However, each child's level of disorder severity is different. Therefore, the youngster must receive the necessary care and therapy as soon as possible; that is all they can do. In addition, you may purchase policies like Bajaj Allianz Women Specialized Critical Illness and Care Joy Maternity Insurance to provide medical insurance for a kid with Down syndrome in India.
Leave a Reply