Does Health Insurance Cover Monkeypox?
OkBima
25 May 2023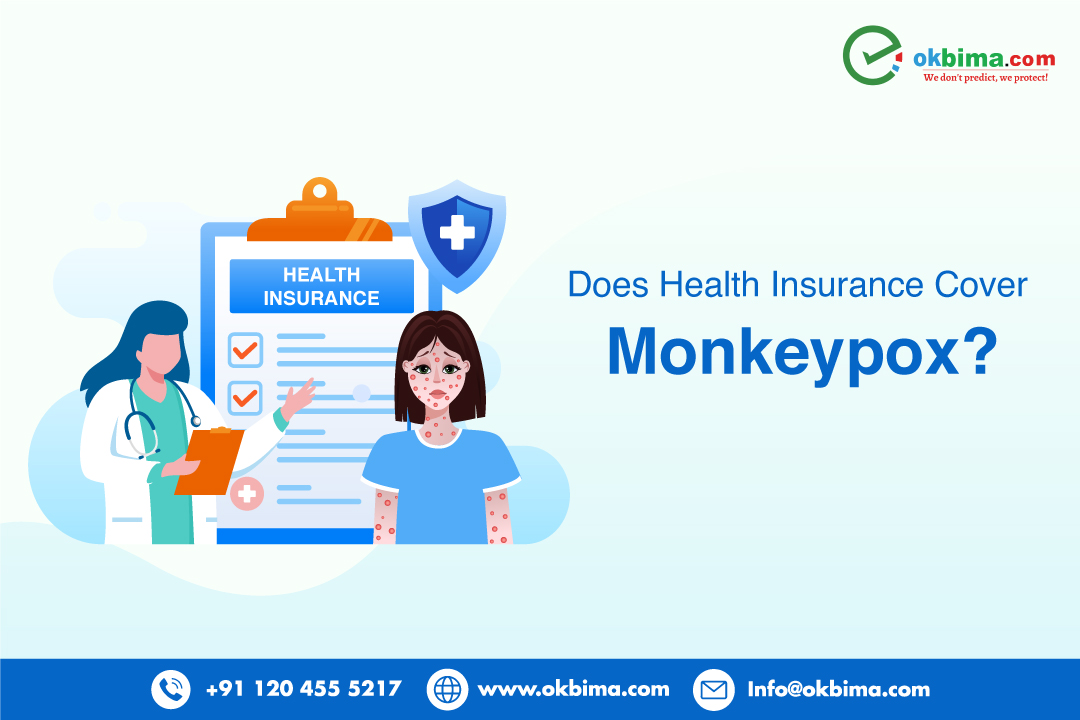 According to the World Health Organization (WHO), Monkeypox is a contagious viral illness initially discovered in a monkey in 1958, thus its name, according to the World Health Organization (WHO). In the Democratic Republic of the Congo, a little kid was later discovered to have it in 1970. Smallpox-like symptoms, including lymph node enlargement, lesions, and fever, are shared by both diseases, which are also infectious.
Monkeypox cases have risen steadily but notably during the last five and ten years. By June 2022, the World Health Organization (WHO) had deemed Monkeypox a severe global health threat. Monkeypox instances are seen in several non-endemic nations worldwide, including the UK, India, Spain, Portugal, the USA, Italy, Canada, and more.
Typically, tropical rainforest regions of West and Central Africa are home to most of these instances. Monkeypox is a contagious illness that typically lasts two to four weeks before disappearing. It transmits when someone has come in touch with an infected individual or contaminated objects, such as clothing. Therefore, it makes it imperative to have health insurance for Monkeypox.
Monkeypox Symptoms
Knowing the signs of Monkeypox is vital since the disease is very infectious and can spread quickly if not caught in time. Monkeypox is currently present in 9 instances in India. Monkeypox symptoms include a variety of ones, such as
Fatigue
Headache
Rashes
large lymph nodes
Chills
pain in the muscles and back
Infection Asthenia (weakness)
Does Health Insurance Cover Monkeypox?
It is sensible to ask if there is protection specifically for Monkeypox in India or if the standard insurance plans cover it, given the remarkable rise in the incidence of the disease around the globe.
To that, the answer would be Yes. When a person already has a complete health insurance plan or health insurance for Monkeypox, they are immediately covered for all infectious diseases, including illnesses like Monkeypox. Therefore, your greatest insurance policy would pay for all your costs, including those incurred before and after hospitalization, which is not restricted to ambulance fees, OPD treatment fees, ICU fees, inpatient benefits, and more.
Your insurance plan may affect the coverage provided by your health insurance policy. Not every health insurance plan or policy has to provide you with the same level of protection; some might provide more protection, while others might not cover a significant portion of the cost.
How Do I Choose The Greatest Health Insurance For The Monkey Pox?
We can assist you if you haven't purchased health insurance for Monkeypox but wish to do so right now. We provide you with a platform to rapidly browse your numerous health insurance plans and policies and compare them to pick the one that's best for you.
It is advised to carefully examine the terms and limitations of the policy before choosing a health insurance plan. For example, as a non-endemic illness in India, Monkeypox is not covered by a separate plan, although big corporations' health insurance policies cover such illnesses.
While choosing monkeypox health insurance, one should consider several factors, including
Inpatient hospitalization,
Hospital Daily Cash
Emergency coverage for air ambulance
Hospitalization and immunization coverage at home
Room rental
childcare practices
OPD costs,
ICU coverage and other costs
Health Insurance Inclusions for Monkey Pox
The following is a list of benefits covered by health insurance for Monkeypox against Monkeypox:
Advantages of Basic Insurance
being hospitalized as an inpatient
Inpatient and outpatient care
hospitalization due to a critical illness
routines in the nursery
ICU coverage for road ambulances
a room's rent, expenditures for organ donors
Hospital daily income
inpatient care at home
How to File a Monkey Pox Insurance Claim?
The reimbursement procedure and the cashless method are two main ways to submit an insurance claim.
Reimbursement Claims
The insurance company can be notified during the reimbursement process, and the insured can then choose the required treatments. When the necessary treatments have been completed, the insurer can get the hospital's proper discharge statement and lodge the claim alongside the relevant hospital records. Upon the insurance company verifying the paperwork, the insurer will begin receiving the refund funds.
Cashless Process
With this method, the hospital and health insurance for Monkeypox providers conducts the transaction without the insurer ever seeing any money. Informing the insurance provider about hospitalization is the first step. Then, the insured might request a discharge report from the hospital after receiving all necessary care and submit it to the insurance provider. The hospital will be reimbursed immediately for the medical expenses when the documents are validated.
For Monkeypox Protection, Why Purchase Health Insurance?
Being ready in preparation for medical adversities and having health insurance are two key lessons that the Covid-19 epidemic taught us all. In addition, the financial security you receive from hospitalization and other treatment costs is greatly aided by having health insurance coverage.
Whether or if your health insurance for Monkeypox has ample coverage is something you should know. But first, you must know that the most basic insurance policy, including Monkeypox, often covers any infectious condition. As a result, you may be able to claim the costs under your medical coverage if you are hospitalized due to the sickness.
Before filing a claim, it is advised to carefully review the policy's terms and conditions and inquire with your insurer regarding the coverage for Monkeypox. In light of this, you must protect the health of yourself and your family by purchasing a comprehensive medical insurance policy.
Purchasing a medical insurance policy from our Healthcare insurance website is an option if you seek the greatest healthcare program. Several alternatives are available, and you may pick a plan that best suits your demands and budget. To learn more about their coverage, visit the Okbima website.
Is There a Required Waiting Time for Monkeypox Under Insurance?
Monkeypox coverage is unavailable beginning on the first day of any insurance policy, regardless of the company. In contrast, coverage won't begin until the waiting time has passed. In India, there is a 30-day initial waiting time for most regular health insurance for Monkeypox coverage. The corporation will not pay for any other claims during this waiting time, save accidental ones.
So, after the first 30-day wait period has passed, policyholders can only make claims for Monkeypox. Furthermore, the provider will not accept a claim made by an insured before that time.
How Can I Avoid The Monkeypox Virus?
Being a contagious illness, Monkeypox may spread very quickly. Therefore, the top priorities are safety and prevention. The following are some recommendations for how to stop Monkeypox from spreading further and the reasons why you should invest in health insurance for Monkeypox.
The following simple advice can help you from contracting the monkeypox virus:
Avoid making direct skin-to-skin contact.
Use an alcohol-based hand sanitizer to wipe your hands often.
Keep your hands away from the sick person's personal items.
If one notices monkeypox signs, self-quarantining is strongly advised.
Keep away from someone with a rash like Monkeypox.
Never contact anybody who has the virus on their body.
Continue regularly washing your hands using water and soap. You can also wash your hands with an alcohol-based hand sanitizer.
Drinking from a person who has had Monkeypox should not be done. Moreover, avoid sharing meals with an infected individual.
Consume only completely cooked meat
Do not contact an infected person's bedding, towels, or other items of clothing.
Keep your distance from wandering rats or monkeys.
Keep a distance from animals that are diseased or unwell as well.
Therapy for Monkeypox
Monkeypox is not yet treated with a particular medication. But if you've caught the virus, your doctor could prescribe certain drugs for fever and exhaustion depending on how bad the infection is, and they might also put you on a liquid diet.
Yet, because the monkeypox virus is genetically identical to the smallpox virus and is related to it, we can treat Monkeypox with antiviral drugs and vaccinations that have been created to treat smallpox. In addition, they are capable of treating Monkeypox.
Severely unwell patients or those with compromised immune systems may benefit from using medications like tecovirimat (TPOXX). The smallpox vaccination is allegedly about 80% successful in curing Monkeypox, according to certain studies worldwide. A moderate temperature, itching, and redness are only a few of the minor adverse effects that it might produce.
What Precautions Should I Take Against Monkeypox?
If you exhibit signs of it, you can take the actions listed below to treat Monkeypox:
Use medicine to lower your temperature and provide pain relief.
Almond milk bath
Use bandages and gauges.
Keep pets away from you
Conclusion
Although Monkeypox is far less harmful than smallpox, nobody can ever be sure it won't adversely affect their health. Monkeypox has a more severe impact on children's health than adults. As different viruses keep showing up at our doors periodically, it has become essential that all individuals possess adequate health insurance for Monkeypox.
When comparing different health insurance plans and policies for families and individuals to satisfy their requirements and keep them protected, Okbima.com can be of assistance.
Leave a Reply