Common Wellness Benefits Offered by Health Insurance Plans
OkBima
11 May 2023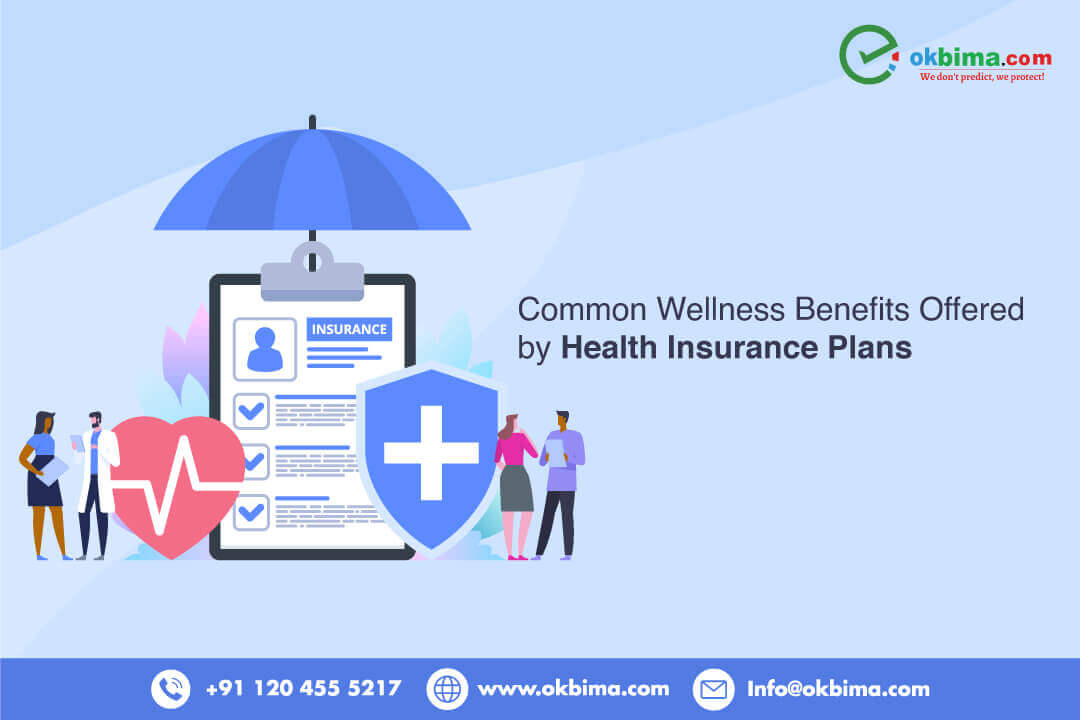 The most valuable asset in the truest sense is health. If your health is not in excellent shape, no amount of money will allow you to enjoy the comforts that money can purchase. But, in today's fast-moving, stressful money-making world, our health has fallen by the wayside. Health insurance companies in India give common wellness benefits to health insurance plans to deviate from this new standard. Keep reading to learn more.
Why Provide Wellness Benefits Via Health Insurance?
Nowadays, several health insurance companies include wellness benefits in their health insurance policies and reward policyholders for maintaining a healthy lifestyle. People are, in fact, rewarded for placing a high priority on being healthy and leading an active lifestyle. As a result, they advise policyholders to keep an eye on their diet, sleep schedule, and fitness level.
To encourage exercise and a healthy lifestyle, the Insurance Regulatory & Developmental Authority of India (IRDAI) has issued new rules directing insurance firms to include preventive health & wellness benefits in health insurance plans. In addition, the regulatory authority has permitted insurers to provide these common wellness benefits as built-in and add-on coverage options in health insurance plans.
What Are the Health Insurance Advantages for Wellness?
Health insurance companies typically provide wellness scores or reward points to provide preventative health and common wellness benefits in health insurance plans. The insurance provider awards the policyholder points for maintaining good health, forming healthy habits, and living a healthy lifestyle.
With these points, policyholders may save money on things like prescription costs, office visits, and consultation fees. Also, network hospitals and appointed providers accept them in exchange for services.
The insurance firms explicitly list the numerous excellent health indicators in the policy paperwork for the policyholder's convenience. They follow these positive health indicators and track the development of the policy after the policy period starts using digital gadgets and mobile applications.
Based on the policyholder's success, such as when they reach a particular milestone, the wellness points are awarded frequently or at least every year. For instance, some insurance companies offer wellness credits if the insured logs a certain amount of steps each day.
Health Insurance Advantages Often Associated With Wellness
Consider a few of the most popular and common wellness benefits in health insurance plans provided by Indian health insurance companies:
Physical examinations for prevention
A number of health insurance companies provide preventative health checkup services in their wellness benefits. Regular preventative health examinations allow policyholders to maintain their health and catch any conditions or diseases early.
These examinations can be obtained for free or at a reduced cost by policyholders at any of the network service providers in their network.
Healthcare Services at a Discount
OPD consultations or therapies, screening procedures, medications, etc., can all be discounted using health and wellness points. You can use these reductions at a hospital or provider in the insurance company's network. Moreover, they provide redeemable certificates that may be used to purchase nutritional supplements.
Individual Health Coach
One of the wellness advantages offered by most health insurance policies is the provision of a general well-being coach to subscribers. The coach serves as a personal advisor who encourages insureds to embrace a healthy way of life and offers a tailored plan to assist them in meeting various health objectives.
The coach, for instance, can offer advice on maintaining a healthy BMI and giving up unhealthy habits like smoking while also assisting the policyholder in adhering to a personalized diet and exercise plan. The health coach sets a reasonable goal for the insured to improve their lifestyle. When the policyholder meets the predetermined goal, they receive the spendable wellness points as compensation.
Services for maintaining health
Policyholders can accumulate wellness points to receive a discount on medical upkeep services. In addition, with the help of these points, they may receive a discounted membership to a number of wellness facilities, including gyms, sports teams, yoga studios, fitness centers, etc.
Reduced Renewal Premium Prices
Fitness & well-being points can be applied to lower the health insurance policy's renewal price. In addition, these points can be utilized to reduce the common wellness benefits in health insurance plans' renewal prices if offered as add-on insurance.
Some plans provide policyholders to lower their premiums up to a predetermined amount. In contrast, others allow them to save up to 100 percent of the overall insurance premium if they reach a specified number of point milestones.
Further Medical Opinion
Several health insurance companies also provide second medical opinions to subscribers as part of their health and common wellness benefits in health insurance plans. It permits policyholders to obtain independent advice from a licensed medical expert for any severe illness or medical condition. The best thing is that the insured is not responsible for paying the consultation costs because the insurance provider handles them.
Health Insurance Plans with Packages for Health Checks
Health insurance firms include wellness perks in their medical insurance plans to set their products apart from the competition. Two major factors may be the growing requirement of the consumer base and more market rivalry. The majority of them are wellness package appointments for preventative health checks.
One every four years was the standard for most insurance carriers to cover health checkups. However, insurance companies now provide these checkups annually, partially driven by poor use.
Another frequent perk under the common wellness benefits in health insurance plans is a second medical opinion. A panel of doctors from the insurer's network is available to insured people with life-threatening diseases so they may seek a second opinion on their current medical care. OPD savings on medical services provided by their panel are occasionally a perk provided by health insurance companies.
According to insurance firms, the usage of these health coverage advantages is not well known. In addition, insurance firms actually incur little expense. As a result, the impact realized is also modest, which is not surprising. However, that doesn't account for most reasons why people stick with insurance companies. And the main factor contributing to its poor use is its basic design.
Why Should A Healthy Person Invest in Plans with Well-being benefits?
It is possible for a healthy person who has no symptoms or medical concerns to resist willingly going to the doctor. The difficulty in obtaining the advantage further diminishes
its usefulness. Even though corporate wellness programs are more often used on-site due to their accessibility, they are still grossly underutilized overall.
Preventive medical checkup claims are relatively low on the list of common wellness benefits in health insurance plans claimed if we look at the overall pattern of wellness benefit use. A healthy person concerned with his health will choose to adjust his way of life and nutrition first. After that, someone may start going for morning walks or starting a fitness regimen that includes going to the gym, doing yoga, and doing aerobics.
According to research conducted by several firms with wellness evaluation programs for their employees, people genuinely chose to get up early and go for a jog. However, because receiving a free health checkup would not improve their health, most of them avoided doing so.
Making Wellness Programs More Popular
Strangely, we may obtain genuine health advantages for nothing. Several resources are available to assist you in achieving your health objectives. For example, with fitness applications, you can monitor the number of steps or cardiac points you take daily.
Also, you receive your fitness report through email every week or every month. In addition, other applications can assist you in keeping track of your daily dietary consumption.
To overcome your obstacles, you must take proactive action on the strength of your initiative and will. It becomes problematic when everyone is focused on completing tasks and putting out daily fires. Those with urban lifestyles do fewer than 5000 steps each day on average.
The health insurance industry is encouraging customers to lead healthy lives through these wellness and physical activity initiatives. The steps are also being taken to guarantee its best use.
Guidelines on preventative and common wellness benefits in health insurance plans were published in September 2020 by India's Insurance Regulatory and Development Authority. According to the mission of the IRDAI, it should be created to enhance and maintain good health. Insurance firms are encouraged to offer reward points to clients who satisfy the established wellness standards.
These points can be redeemed by the insured for participation in sports leagues, gyms, and yoga classes or used to reduce the cost of the insurance renewal price. Moreover, beyond hospitals and diagnostic procedures, the coverage breadth has grown. As a result, insurance providers should take advantage of the chance to develop wellness standards that consider the insured's lifestyle choices and physical health.
Conclusion
Benefits for preventative healthcare and well-being motivate policyholders to lead active lives. Therefore, the IRDAI has instructed health insurance companies to include a variety of common wellness benefits in health insurance plans, which is the primary justification for this directive.
So, be careful to review the wellness advantages that your insurance offers and your policy agreement. Then, to get the most out of them, don't forget to develop good behaviors and rack up as many points as possible.
Leave a Reply