Check Out The Mandatory KYC Documents For Health Insurance
Admin
15 May 2023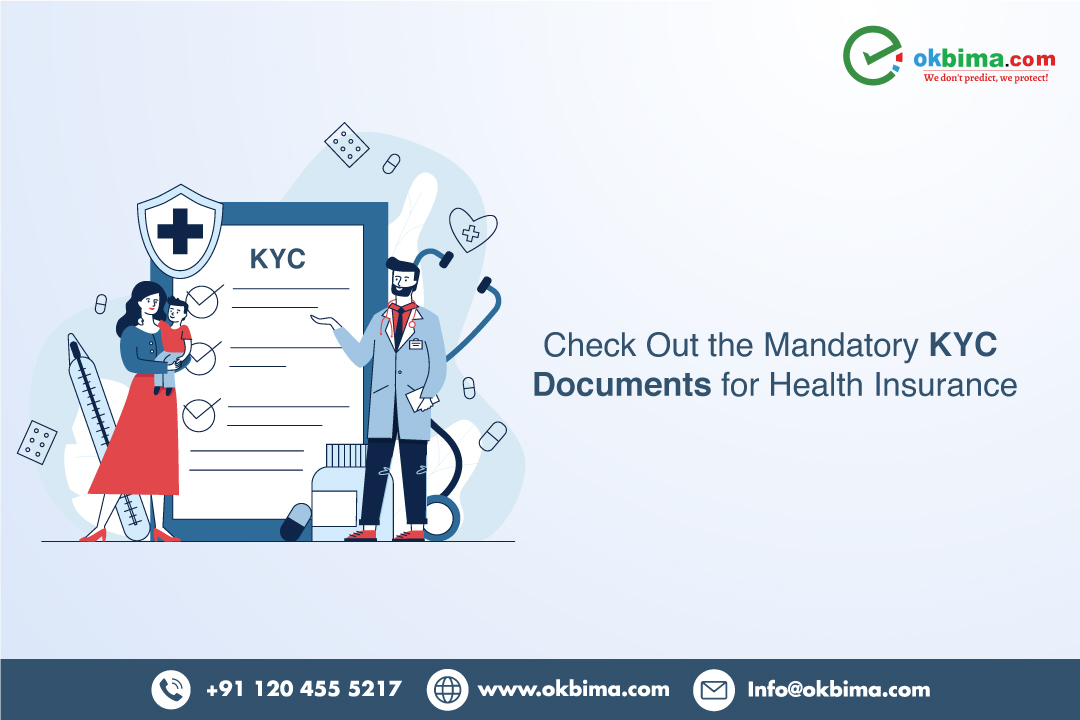 New health, auto, travel, and home insurance policy purchases will require know Your Customer (KYC) documentation or mandatory documents for health insurance beginning on January 1, 2023. For the acquisition of all new insurance policies, regardless of their rates, from January 1, 2023, the Insurance Regulatory and Development Authority of India (IRDAI) has mandated KYC requirements.
All insurance policies, including life, general, and health, must abide by this guideline. However, purchasing non-life or general insurance, such as health, vehicle, and travel insurance coverage, is currently not subject to the KYC documentation requirement.
The PAN card and Aadhar card are only requested from the client when claiming a health insurance policy, particularly if the claim amount exceeds Rs 1 lakh. The sole change made by the new procedure is moving the KYC criteria from the moment of claim to the moment of policy acquisition.
What Does This Mean For Policyholders?
It will alter how customers obtain insurance.
Quicker Claim Resolution Procedure
Claim processing will become quicker and more fluid due to insurers having a more thorough picture of their clients' thanks to KYC. In addition, the KYC procedure will guarantee no false claims, and all payments will be given to the policyholders' legitimate heirs.
As the policyholders will have previously given their KYC documentation or mandatory documents for health insurance at the time of renewal or purchase, claim settlement is anticipated to go more smoothly.
Centralised Data And A Simple Insurance Renewal Process
By ensuring that the insurer has the policyholders' KYC information on file, the insurer can verify that the policyholders' policies are correctly assessed and qualified for the insurance they purchase.
Also, the insurance firms would have a centralized information bank that would aid in maintaining a record of policies and eventually benefit all stakeholders. A better client experience might be achieved by using the KYC procedure, guaranteeing better services for policy sales and renewals.
Insurance purchasers should be aware because once underwriters have the KYC information of the policy purchaser, it would be simple for any insurer to verify the policy purchaser's claims history under various policies, even if they were purchased previously from other insurers.
What Will The Insurers Gain From It?
Accurate risk analysis and costing, as well as a decreased likelihood of fraudulent claims, can all be improved for insurance firms by getting KYC information from policyholders. In addition, guaranteeing that policies are given accurately and quickly may also aid in improving the entire customer experience.
In general, the need for insurers to gather KYC information or mandatory documents for health insurance from policyholders can enhance the precision and efficacy of insurance claims and protect the best interests of consumers and insurers.
Why Has IRDAI Mandated KYC Documents For Health Insurance?
While obtaining or renewing any insurance, including health, life, and general insurance, the IRDAI has mandated that all new and old clients produce KYC documentation as of January 1, 2023. The following are the causes:
To start, by requesting government-issued documentation and proof of residency, insurance providers may more effectively verify a policyholder's identity and make sure that perhaps the Mediclaim coverage is not being acquired for questionable or unethical reasons.
Second, using KYC data to track a policyholder's statistics, such as income and age, may help insurance businesses better understand their clientele and make deft judgments regarding the creation and cost of their products.
Finally, the claim procedure will be quicker and smoother when carriers have a thorough profile of their clients. Policyholders are not required to submit a KYC form when filing a claim under their health insurance.
List Of Health Insurance Customers' Acceptable KYC Documents
The following methods are available to the insurance company for carrying out the KYC or mandatory documents for health insurance of a client with health insurance:
Online authentication utilizing Aadhar-based KYC
Using offline authentication and Aadhar-based KYC
The customer's face-to-face identity will be verified using a video-based identification process (VBIP).
utilizing the Central KYC Registry-issued 14-digit KYC Identity number
The PAN Card/Form 60
Documents that are formally valid (OVDs)
Health Insurance Purchase/Renewal Requires Kyc Documents
The IRDAI has mandated that all applications for new health insurance and renewals must include KYC documentation or mandatory documents for health insurance as of January 1, 2023. If you've been a client in the past and haven't given your insurer your KYC information, you should contact them immediately and provide them with the information they need. You might not be capable of renewing your current health insurance coverage or getting a new one if you don't do this.
You must provide PAN cards and Form 60 as your KYC papers.
Any of the following papers and a letter from the National Population Registry with your demographic information constitutes a valid form of identification: Aadhar Cards, Passports, PANs, Voter IDs, DLs, NREGA Job Cards, and Voter IDs.
A valid address proof may be any of the following: an Aadhar card, passport, PAN, voter identification card, driving license, phone bill that is no older than two months, bank statement, a receipt for estate or local taxes, or utility bill (such as a water bill, electricity bill, or bill for piped gas that is no older than two months).
Passport-sized image
Health Insurance Companies' Kyc Standards
The IRDAI mandates that all health insurance providers adhere to specific KYC standards or mandatory documents for health insurance, including:
Checking the client's real name, address, and photo.
Use efficient methods to collect information from existing and potential clients to ensure accurate identification.
Ensure no false or anonymous identities are used while issuing the insurance policies
The insurance provider must recognize and confirm the client's legal status if the judiciary employs the customer.
Customers must give the insurer a self-declaration if they wish to disclose an address other than the one on their Aadhar Card.
The insurance firm must verify the legally legitimate papers if a consumer cannot complete Aadhaar authentication owing to age, illness, or accident.
Get information about clients from various sources, including agents.
Verify if the customer's health insurance cost is commensurate with their income.
Insurance providers may submit a Suspicious Transaction Report (STR) to the Financial Intelligence Unit-India if they have any suspicions regarding a customer's genuine identity or transaction (FIU-IND)
Considerations Should Be Made While Doing The KYC Of Customers With Health Insurance.
The following considerations must be made by insurance carriers when doing the KYC or mandatory documents for health insurance of clients who purchase health insurance:
The insurer is required to conduct Client Due Diligence (CDD) for every new policyholder using the KYC papers.
based on currently available information, the CDD for current policyholders must be performed periodically.
During a specific period—two years for low-risk consumers and one year for everyone else, including high-risk customers—the insurer must collect current customers' KYC forms for the Medicare program.
Submit PAN/Form 60 by requesting it from current policyholders.
The insurance company must take all essential precautions before paying out claim benefits to the insured, beneficiaries, or legal heirs.
The management of an insurance supplier must review the proposals of Politically Exposed People (PEPs).
Anybody suspected of having ties to terrorists, terrorist groups, or prohibited organizations should not be given insurance coverage by an insurance firm.
Where Will You Need KYC Documentation?
Regulators, including the IRDA, RBI, and SEBI, need KYC for business. Among many other financial operations, KYC or mandatory documents for health insurance are required to create bank balances, demat accounts, buy stocks, mutual funds, and other financial instruments, purchase insurance, and use mobile wallets.
What Advantages Does KYC Have In The Insurance Industry?
Here is a list of some advantages:
Visibility Between The Insured And The Insurer
Insurers manage the personally identifying data of their customers. Companies are therefore required to ensure the accuracy of the data belonging to their clients, including both individuals and organizations. To provide good insurance benefits to the right consumers, insurers need to amass enough proof, and KYC or mandatory documents for health insurance help them do so.
Keeps Records Of Transactions
KYC helps financial institutions avoid engaging with people or organizations involved in corruption or illegal intents, such as money laundering or funding terrorism. In addition, risk management is aided by the fact that financial institutions may stop customers from abusing their services by properly executing KYC regulations.
Conclusion
With their Mediclaim insurance, people experience them differently. But unfortunately, too many instances exist where the policyholder and insurer are at odds. For illustration, there are several instances where policyholders make inflated or misleading claims to their insurance companies to get larger benefits.
Encouraging ethical insurance practices is crucial for this reason. For all health insurance policies, including family health insurance, the Insurance Regulatory and Development Authority of India (IRDAI) requires the production of KYC (Know Your Customer) papers or mandatory health insurance documents to prevent fraud and money laundering. So educate ourselves further about it.
Leave a Reply