Best Health Insurance Plans in India 2023 - Okbima
OkBima
20 Apr 2023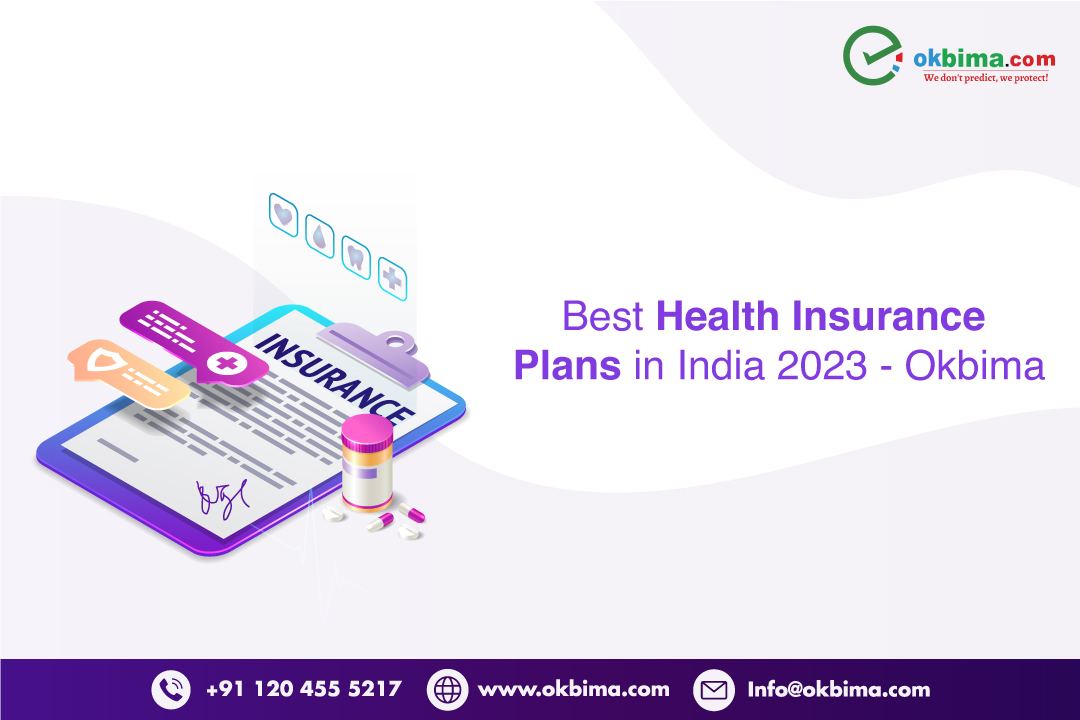 Getting the best health insurance policy in India is essential since it will enable you to keep up with the rising healthcare costs and ensure that you and your family have a healthy future free from stress about mounting medical bills and hospital costs. Also, many health insurance plans are available, making it difficult to choose one.
Choose the best health insurance option to suit your needs with the assistance of the experts at Okbima. Depending on your choices, you can compare and choose the best health plan for you and your family that will cover medical costs such as those related to daycare, critical illness hospitalization, etc.
Indian Health Insurance Plans at Their Finest
This is a list of the best health insurance policies India for April 2023 offers from some of the best insurance providers.
| | | |
| --- | --- | --- |
| Plans for Healthcare | Access Age (Min-Max) | Amount Insured (Min-Max) |
| Zuno (Formerly Edelweiss) Health Plan | 90 days – 65 years | Rs. 1 Lakh - Rs. 1 Crore |
| Liberty Health Connect Supra Top-up | 18-65 years | Rs. 3 Lakh - Rs. 1 Crore |
| Kotak Mahindra Health Premier | 18-65 years | -- |
| IFFCO Tokio Health Protector Plus | 18-65 years | Rs. 2 Lakh - Rs. 25 Lakh |
| Future Generali CritiCare Plan | 18-65 years | Rs. 1 Lakh - Rs. 50 Lakh |
| Digit Health Plan | N/A | Rs. 2 Lakh - Rs. 25 Lakh |
| Cholamandalam Chola Healthline Plan | 18-65 years | Rs. 2 Lakh - Rs. 25 Lakh |
| Care Health Care Plan (Formerly Religare Care Health Insurance Plan) | 91 days & above | Rs. 4 Lakh - Rs. 6 Crore |
| Bharti AXA Smart Super Health Plan | 91 days -65 years | Rs. 5 Lakh - Rs. 1 Crore |
| Bajaj Allianz Health Guard | 18-65 years | Rs. 1.5 Lakh - Rs. 50 Lakh |
| Aditya Birla Active Assure Diamond Plan | 5 years & above | Rs. 2 Lakh - Rs. 2 Crore |
Tips for Choosing the Best Health Insurance Coverage
One health insurance plan will not be sufficient to cover all of your needs. Many different health insurance plans are available, each providing different coverage advantages. To choose the best health insurance plan in India 2023, you must first determine the benefits and understand what is included and what is not. To choose the one that best meets your needs, you can conduct internet research or speak with our customer service team.
The following are some suggestions you can consider when choosing the best health insurance policy:
Choose a Reasonable Sum Insured Amount
Always choose a plan with the most comprehensive health coverage and highest deductible to help you handle any medical emergencies. You'll need enough money to cover the inflation because medical inflation is driving up the cost of healthcare significantly.
A basic cardiac operation can now cost anywhere from Rs 4-5 lakh, a significant sum of money for a family in the middle class. So, select a suitable coverage quantity to guarantee financial stability for handling potential financial situations.
Choose the Proper Coverage Type
Individual needs are considered when creating individual health plans. We advise purchasing a family floater plan to cover your complete family if you have more family members. This way, you can protect their health without purchasing individual policies for each member.
Also, the premium is lower than individual plans, and the total assured is bigger. Most significantly, anyone can use the amount while receiving medical care using the best medical insurance. By spending a slightly higher premium, you can also insure your elderly parents.
Examine your ability to increase the total amount of insurance you have
Both the cost of living and the price of medical care change yearly. The majority of insurance providers have the option of growing the amount insured over time. Your insurer may occasionally reward you by raising the overall sum covered if you extend your policy on time and have the No-Claim-Bonus advantage under your current plan.
Examine the Pre-Existing Condition Waiting Time
Every health insurance policy has its terms and restrictions pertaining to pre-existing conditions. In other words, if you already have a disease when you sign up for a plan, your claim for medical care will only be granted once you fulfil a specified waiting period.
Most of the time, the waiting period is between two and four years; however, some of the best plans, such as some of the best medical insurance policies, have shorter waiting periods. Choose the health insurance option with the shortest waiting period when purchasing.
Examine the Maximum Reinstatement or Renewal Age
When choosing a family health insurance plan, policy renewal is one of the most crucial considerations. Only those 65 or older may renew their health insurance policies, on average. There are, nevertheless, some policies that include a capacity for lifelong renewal of health insurance. You should choose the best option based on your family's health information and other health factors.
A high claim-settlement ratio insurer
The ratio of settled claims to total claims received by the insurer is known as the claim settlement ratio. Choose a health care plan from a provider with a high reimbursement or claim settlement ratio at all times. You can guarantee that your claim won't be denied until the provider has a good reason for doing this. Nonetheless, you should exercise caution when filing a claim. Ensure all necessary documentation and documents supporting your claim are attached.
Effortless Claim Settlement Procedure
Generally speaking, the claim-settlement procedure is the same for all insurance firms (as specified by the Insurance Regulation and Development Authority); nonetheless, there may be slight variations due to differences in the functionality of the various companies. Before buying the coverage, you should comprehend your health insurance provider's reimbursement and repayment claim settlement procedures.
Healthcare without Payment or Cashless
With medical insurance, you have the right to receive care from network hospitals, a collection of hospitals connected to a specific insurer. Almost all health insurance companies offer a cashless hospitalization option, saving you the stress of rushing from one place to another to gather the necessary paperwork. This service is only available at the hospitals in their network.
Cashless hospitalization streamlines and makes the hassle-free for the policyholder claim settlement process. Nonetheless, it is advised to double-check the roster of the institutions on the list before submitting a claim.
Never overlook premium comparison
Comparing both the plans and the premium is crucial. Several online aggregators can help you compare insurance plans in terms of features, rates, maximum returns, and other factors; choosing a plan without carefully analyzing your options is like courting regret. By comparing the plans, you can obtain all the features at a significantly less expensive premium.
Review the Reviews
While buying medical insurance online, it is crucial to read customer evaluations of various health insurance providers. Assessments typically include a mix of favorable and unfavorable perspectives that highlight the pertinent advantages and disadvantages. You can make a solid decision with the help of this.
Go over the Exclusions
Most policyholders fail to read the health insurance policy's exclusion and limitation clauses, which leads to unanticipated outcomes. If a plan provides anything, it is equally permissible to exclude coverage for some illnesses, such as some that do not cover hernias, cataracts, sinusitis, gastric problems, joint replacement, etc., during the initial time.
You should pick a health care plan with minimal exclusions over those that cover costs associated with dental care, HIV/AIDS, eye care, STDs, cosmetic surgery, etc.
Grave Illness or Accidental Rider
You may assure that purchasing a critical illness rider won't disrupt your financial planning in the event of an unexpected medical bill. You can add the rider benefit of critical illness insurance by paying an additional premium. In exchange, you can receive medical protection against fatal conditions like cancer, kidney failure, tumours, etc.
Advantages Of India's Top Health Insurance Plans
You're mistaken if you believe that only hospitalization cases qualify for medical expense coverage under health insurance. The best health insurance plan in India offers other perks in addition to giving financial support when a patient is hospitalized.
You can visit a network hospital without paying cash if you have a decent health insurance policy. That is a blessing because you don't have to spend out of your own wallet. To use the facility, the covered must file the necessary papers with the hospital administration; the health insurance provider will handle the financial obligations.
Some health insurance providers offer a daily sum for each day a patient is hospitalized. This has no bearing on the actual money promised. You may use this amount, up to a daily maximum, to pay for prescription drugs or other needs linked to your health.
Conclusion
The best health insurance policies in India are created for people and families looking for full coverage advantages and more possibilities for the insured sum. They pay for the costs of medical hospitalization, a second opinion on a severe sickness, and domestic and foreign emergency healthcare help services.
The best aspect of these health insurance plans is that they offer optional coverage for cancer hospitalization boosters, any room upgrade, and shortening the waiting period for pre-existing conditions.
Leave a Reply