Advantages and Disadvantages of Buying a Health Insurance Policy
OkBima
30 May 2023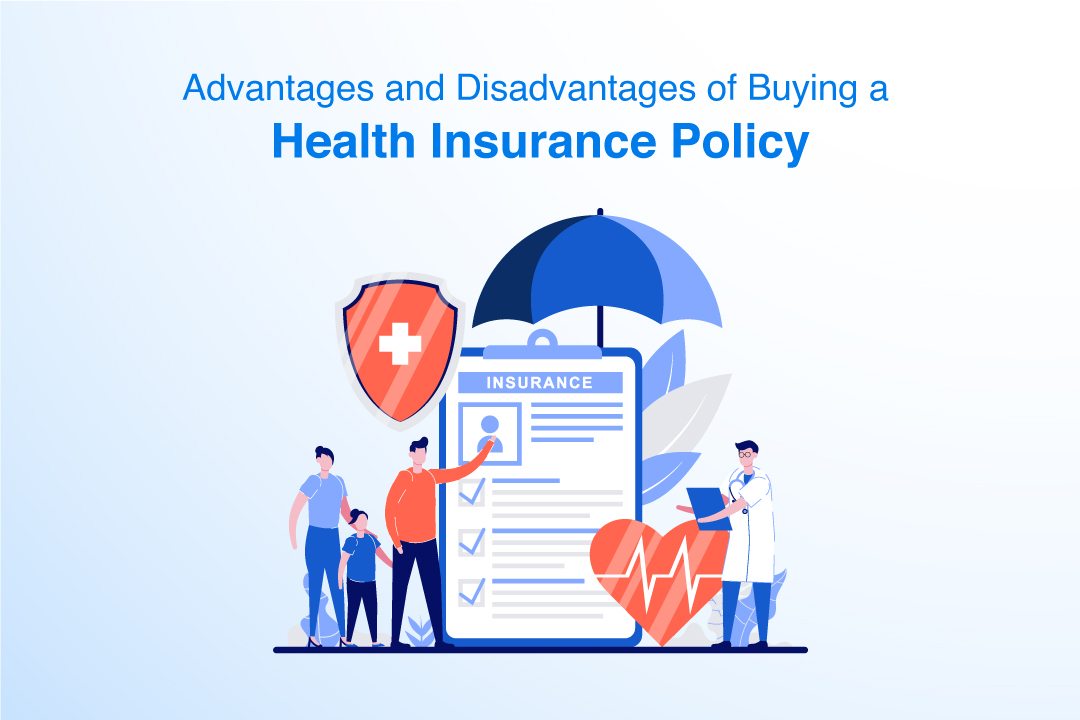 Introduction
Each day that goes by, healthcare costs in India rise. If you end up in the hospital or are identified with severe sickness, you may swiftly go through all of your funds. Therefore, it is essential to purchasing medical insurance since it is the only option to safeguard your funds in a medical emergency. Understand the numerous benefits and drawbacks of buying health insurance.
Health Insurance's Benefits
Have a look at a few of the main benefits of purchasing a health insurance plan:
Wealth Protection
One of the main benefits of health insurance is that it covers the insured's financial obligations for any hospitalization-related medical costs, whether for a planned stay or an unplanned one. If you have health insurance, your insurance provider will cover your hospital expenses. The price of receiving treatment for an illness or medical condition is also covered.
So, having health insurance guarantees you can take advantage of timely access to care without worrying about finding the money. In addition, it means that you won't have to sacrifice the standard of care.
Safeguards Your Funds
It protects your hard-earned cash even in a medical emergency, which is one of the main advantages of having medical insurance. You wouldn't want to spend everything you have on medical expenses. With health insurance coverage, you may be confident that your savings will be unaffected by the insurance company's payment of your medical expenses.
Hospitalization with a Cashless Payment System
Using cashless hospital services is another significant benefit of purchasing health insurance. When the covered person is discharged under this facility, they are not responsible for the hospital cost. The insurance provider pays the hospital immediately in lieu of sending a bill.
The insurance company's network hospitals are the only ones offering this service. Hence, if you want to use the cashless hospitalization feature, you must be hospitalized at a network hospital.
Totally Free Medical Exams
The majority of health insurance policies provide the advantage of free health screenings. A free preventative health checkup is now available to the insured under this benefit. While some plans provide this option every year, others could do so after a few years. In addition, if you haven't filed a claim, you could simply be qualified for a policy's free health checkup.
Specialized Health Plans
The ability to provide coverage to those with a range of medical requirements is another benefit of health insurance. Medical insurance can be purchased in addition to hospitalization to protect against catastrophic illnesses, chronic diseases, pregnancy, and other events.
Consumers can select these options as a rider or choose a plan that is specifically tailored to them. Also, customers can select an individual, family, or senior citizen plan depending on who needs insurance.
Non-Claim Bonus
No-claim bonus is a benefit that all health insurance policies provide. Every time a policyholder refrains from filing a claim, they are given a no-claim bonus, which raises the policy total protected by a specific percentage. With no increase in premium cost, you can now obtain coverage for a bigger sum insured.
Tax Benefits
Tax deductions are an additional benefit of purchasing medical insurance. Health insurance premiums may qualify for tax deductions under 80D of the Income Tax Act of 1989. Hence, you can save on taxes on the sum you paid as your policy's premium.
Serenity of Mind
Health insurance also provides peace of mind, which is a big plus. A family floater plan may significantly increase your sense of security. Thus it is highly recommended. Knowing that your and your family's health is entirely secure gives you a sense of security.
With a health plan, you may pick the finest medical treatment for you and your family and can stop worrying about the expense of your healthcare. Moreover, receiving high-quality care can hasten the healing process and help you return to full health earlier than you would have anticipated.
Health Insurance's Drawbacks
Buying health insurance has several drawbacks, some of which are listed below
Pre-Existing Disease Coverage Waiting Period
One of health insurance's main drawbacks is its ability to cover pre-existing conditions after a waiting time. Hence, after you purchase the coverage, you are unable to submit an appeal for pre-existing conditions.
To file an insurance claim for pre-existing conditions, you must wait for a set amount of time. After a 3- or 4-year waiting period, health insurance policies often cover pre-existing conditions.
Premium Hikes with Age
Another drawback is that the cost of health insurance goes up as a person gets older. Age is a crucial factor in determining a health insurance policy's premium. Age significantly impacts how much a health insurance premium will be. The premium will increase in direct proportion to the applicant's age. This is due to the fact that as a person's age grows, so do their chances of contracting a disease or other medical issue.
The Co-Payment Clause
Another drawback of health insurance is the possibility of co-payment. If this provision applies to your policy, you must split the claim settlement with the insurance provider.
For instance, if your policy includes a 10% co-payment provision and your claim is for Rs 1 lakh, you would be liable for Rs 10,000, whereas your insurance provider will cover the rest of Rs 90,000.
The Coverage Limit's Sub-Limit and Cap
The drawback of sub-limits or capping is present in several health insurance plans. The quantity of coverage that a policyholder can receive under a medical insurance policy is limited by capping. In addition, rent for rooms is often capped.
For example, if your total insured is Rs. 5 lakhs but your plan caps room rent at 1%, your insurance will only cover up to Rs. 5,000 daily for room rent.
Load on Premium
Charge-up rates are another drawback of health insurance. As a result of an elevated risk profile for health issues, an individual is subject to loading, which is an additional fee on top of their premium. The insurance company will apply to load when the consumer has had a pre-policy medical examination.
Are Health Insurance Policies Worth Purchasing?
Yes is the response to this query. Although there are certain drawbacks, everyone must purchase health insurance. The benefits of buying health insurance outweigh the drawbacks by a wide margin and are significantly more significant. Having your insurance provider pay for your hospitalization and medical care can save you far more money than paying the premiums or a co-payment.
Hence, you and your family must get health insurance. Make sure to purchase medical insurance as early as feasible in life. This is because if you get health coverage at a young age, you may do it easily and at reduced prices.
Why Should You Invest in Health Insurance Plans?
Maladies and accidents might strike at any time. Buying health insurance will give you the confidence that you have the resources to deal with such circumstances.
Offer Financial Help
A health insurance policy provides essential financial help during medical emergencies. The expenditures connected with severe diseases like cancer and cardiovascular disease and your financial situation may be significantly impacted. You can receive substantial financial protection from a health insurance policy to pay for domestic and overseas medical care.
In addition, it gives the convenience of fast reimbursements for greater financial flexibility, covering hospitalization charges, diagnosis prices, ambulance and medication expenditures, and these other costs. There will always be inflation. Despite the high-interest rates offered by savings instruments, they are insufficient to pay the price of medical operations when inflation is included.
Cover Medical Expenses
A practical method for assisting with upcoming medical expenses is health insurance. Health insurance provides coverage for a wide variety of costs and aids in mitigating the consequences of inflation, from the equipment's price to the cost of care, medications, and diagnoses.
Health problems are welcomed by the way that people live nowadays. But furthermore, these problems go beyond simple coughs, colds, or fevers. These days, chronic illnesses, including heart disease, diabetes, and renal problems, are equally prevalent. So, having comprehensive health insurance is more important than ever to protect you.
Fighting a severe disease is difficult regardless of how much cash you have saved. Your life's worth of savings might be lost as a result. A fixed wage may make it challenging to fund the cost of medication, equipment, and therapy. You may be able to ease some of your stress and have the assurance you need with health insurance to cover these costs.
Conclusion
Health insurance is now a must to handle the rising cost of healthcare. You may receive the proper care at the appropriate moment while safeguarding your hard-earned cash. Ensure that the health insurance plan you purchase best meets your needs. While comparing health insurance plans from several businesses, you may utilize Okbima.com to determine which is ideal.
Leave a Reply