Fire Insurance Policy
OkBima
14 Jan 2023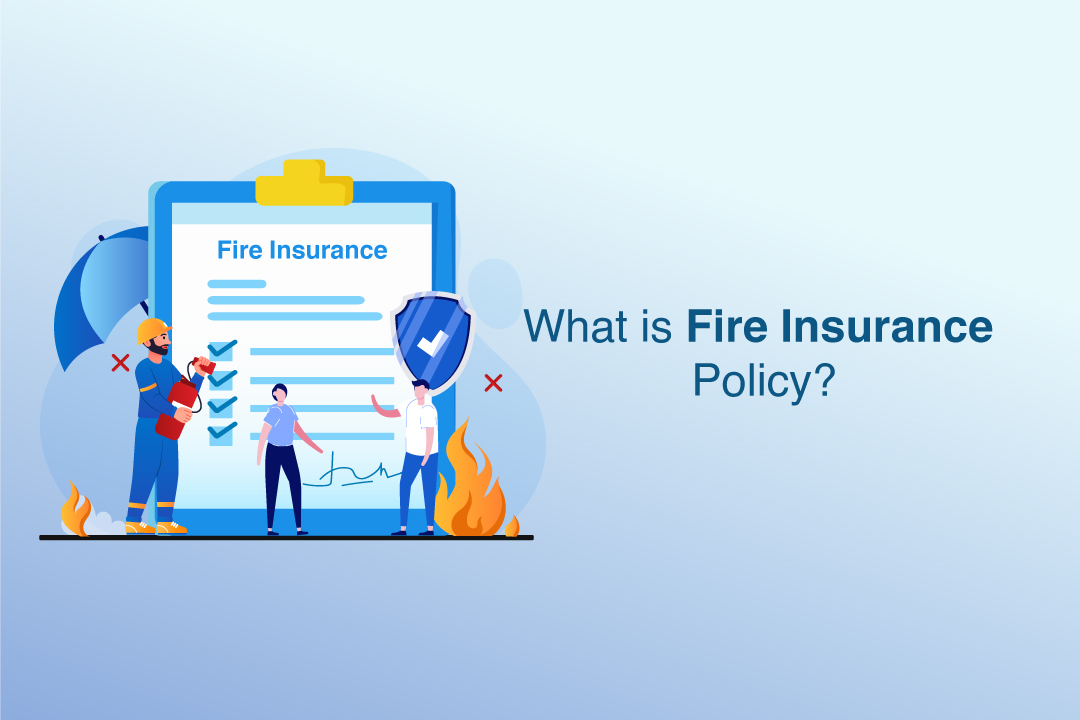 What is Fire Insurance Policy?
Fire insurance protects your home from fire-related damage and losses. This insurance covers the physical products and equipment of a business or residence against theft, fire, and other perils. It assists in covering the costs of property replacement, repair, or reconstruction. Fire insurance covers losses resulting from unanticipated incidents that result in the physical loss, damage, or destruction of your business's building and structures, equipment and machinery, stock, and other assets. This legislation applies to all micro-enterprises, including hotels, restaurants, offices, and others.
Who needs Fire Insurance Policy?
Burn house, flaming building. Insurance agent and customer flat characters. Fire insurance, fire economic losses, protect your property concept. Bright vibrant violet vector isolated illustration
Fire insurance policy is very important for: –
Anyone who owns domestic items such as furniture, valuables, and so on.
Manufacturing and non-manufacturing companies
In the event of a fire, an organization/firm/institution/individual who wishes to save their business from an unforeseen calamity.
Shopkeepers, retailers, and Goodwin/storage keepers
Banks, financial institutions, research institutes, and so on
Why do you need Fire Insurance Policy?
Our businesses are always vulnerable to hazards such as fires, and fire insurance provides complete coverage for damages caused by fires and other risks. Aside from fire-related hazards, it also covers losses caused by natural disasters, bursting water tanks, theft, and so on.
Alterations or additions, floater stocks, temporary stock removal, cover for specific items, start-up charges, professional fees, debris removal costs, and costs mandated by municipal regulations are among the built-in covers.
Taking, about some statistics to substantiate the claim-
1.Fire Outbreak is the 3rd most significant threat to corporate continuity and operations.
2. Businesses that are harmed by building fires have a 25-30% drop in footfall and revenue.
3.According to the ADSI research, residential buildings are the most vulnerable to fire outbreaks.
What are included in Fire Insurance Policy?
The following are included in Fire Insurance Policy: –
Natural heating or spontaneous combustion, as well as fire caused by its own fermentation.
Explosion or Implosion – This coverage covers losses resulting from explosions and implosions. When the interior pressure of a vessel reaches or exceeds the air pressure outside, it can explode. When the external pressure exceeds the internal pressure, an implosion occurs.
Fire or any other damage to property caused by a risk such as lightning is covered by a fire insurance policy.
Natural disasters such as earthquakes, volcanic eruptions, and other natural disasters
Storms, cyclones, typhoons, tempests, hurricanes, tornadoes, tsunamis, floods, and inundation are all covered by fire insurance.
Terrorist acts – A terrorist act is defined as an act or set of acts that includes, but is not limited to, the use of force or violence, as well as the threat of such violence.
Water tanks, apparatus, and pipes bursting or overflowing: This coverage also covers loss and damage to property caused by water due to water tanks, apparatus, and pipes bursting or overflowing.
Sprinkler leakage from automatic sprinkler systems
Theft within 7 (seven) days from the occurrence of and proximately caused by any of the above Insured Events
What are excluded from the Fire Insurance Policy?
The following are excluded from the fire insurance policy: –
Any order of a public authority to burn insured property
Act or omission that is deliberate, wilful, or intentional.
Stocks in cold storage are lost, destroyed, or damaged as a result of temperature changes.
Any heating, drying, or centrifugal forces that cause loss, destruction, or damage to insured property.
Invasion, war, and war-like operations
Radiation that is ionising
Contamination or pollution
Property has gone missing or been misplaced.
Loss or damage that occurs as a result of a consequential or indirect loss or damage
Costs, or fees incurred in the preparation of any claim
For more than 30 days, an insured premises or building is empty.
Leave a Reply