How to compare health insurance plans in India?
OkBima
24 Mar 2023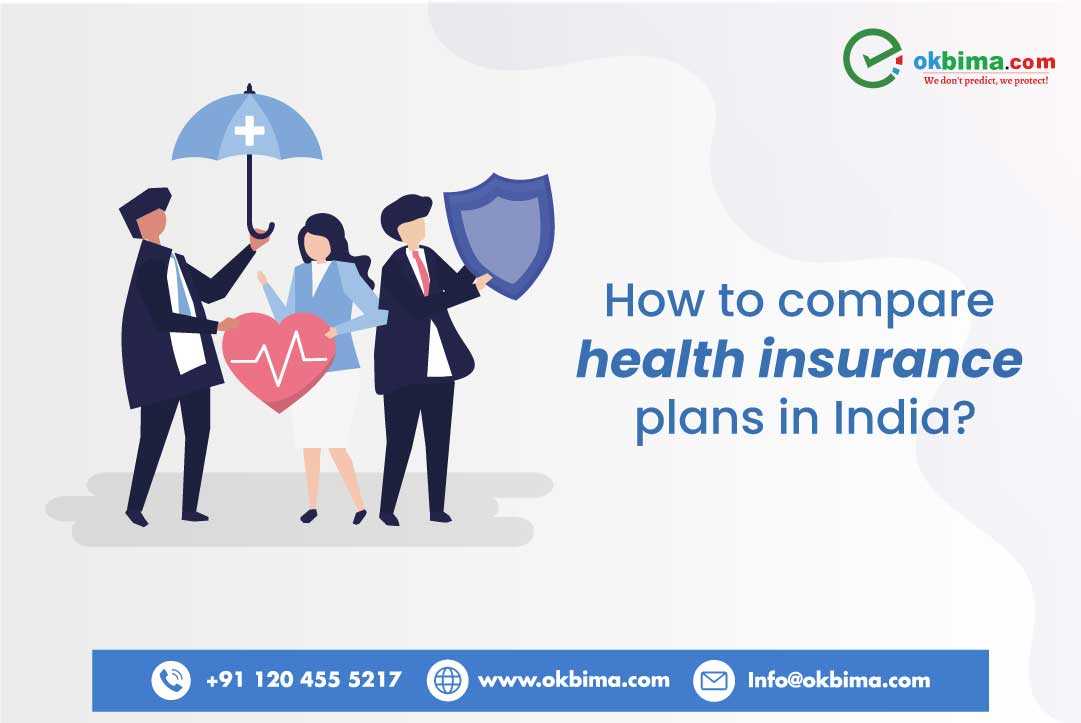 A health insurance plan is insurance that pays for your hospitalization-related medical costs. You have the option of protecting your family or yourself. The quantity of coverage you select is subject to an annual premium. To safeguard yourself from rising medical costs that might deplete your resources, it is an efficient financial tool.
There needs to be a health insurance policy you can count on that is a one-size-fits-all solution. Health Insurance is a contractually based coverage with a dash of legalese. You can discover that each of the many medical insurance plans available on the market is distinct in some manner, with its advantages and restrictions.
Essential things to take into account before purchasing the lowest health insurance available in India
A few essential considerations need to be taken into account if you intend to purchase a medical insurance policy:
Kind of policy you want to purchase: One person or a family-floater
A family floater policy covers the entire family, whereas an individual policy covers the person. The best strategy would be to focus on providing coverage for every family member and maximizing the advantages of both plans.
A contract for insurance transfers the risk from the policyholder to the insurer. The insurer demands payment in the form of a premium in exchange for taking on this risk. Age, kind of job, medical issues, and other factors all affect the premium. The task of determining an insured's reasonable premium falls within the purview of the actuaries. Several premium payment frequencies are possible. The premium can be paid monthly, quarterly, semiannually, annually, or all at once.
Your health insurance coverage amount is the maximum claimable compensation in a medical emergency. The policy's amount payable or sum assured is another name for it. When you buy a health insurance policy online, you may choose the level of coverage.
Limitations on several expenditure heads
The sub-limit is the amount an insurer will cover for claims brought about by related medical costs. Hence, costs such as the price of the medication or the cost of operation will be restricted to the sum specified in the sub-limit. For instance, in a health care plan costing Rs. 4 lakhs, the doctor's costs may be capped at 2%.
Waiting period for diseases that already exist
After a waiting time, health insurance covers existing conditions. As a result, you cannot file a claim for a pre-existing condition as long as you buy insurance. Instead, you must wait for a set amount before filing for reimbursement for pre-existing conditions.
Add-on covers might be available for purchase
The extra insurance or optional cover that a policyholder might add to a base policy is known as an add-on in the context of health insurance. Add-on covers play a vital role in supplying additional protection at a cheap additional premium cost by giving benefits above and beyond the base health insurance policy. By paying an extra fee at the time of purchase, add-ons are additional benefits you can pick to be covered by your health insurance policy.
The clause of co-payment might be there
A co-pay provision in a health insurance policy states that the insured will be responsible for paying a certain percentage of any incurred medical costs. The policyholder often pays a specified percentage of the total claim amount upon filing a claim.
The insurance company's network hospitals
The institutions or hospitals listed in the contract while receiving insurance from the health insurer are network hospitals. If you get the treatment that follows the terms and limitations of your policy, you can use the cashless healthcare insurance service at these institutions.
Processing of claims and claim settlement rates
In the context of health coverage, the claim settlement ratio, or CSR, is the proportion of settled claims to all claims made over a given fiscal year. It aids in determining if the insurer has the resources to manage client claims.
How to Shortlist the Health Insurance Options in India?
The following top items should also be on your checklist when buying a health insurance policy:
Pre- and post-hospitalization time
The costs expended 30 to 50 days before a patient is placed in a hospital are pre-hospitalization costs. On the other hand, post-hospitalization expenditures are incurred within 60 to 90 days after being admitted to the hospital.
The list of daycare operations covered
Daycare procedures include surgery, therapies, and medical operations that don't take a full day in the hospital. Cancer treatment, appendectomy, angiography, radiation, and other operations can be done in a daycare setting.
The insurer gives a policyholder a reward known as NCB, or "No Claim Bonus," if they do not file any claims throughout the insurance year. By providing this benefit, insurers may nudge customers to maintain a healthy lifestyle and submit claims only when required.
Examine the limits on room rent
The term "room rent limit" refers to the upper limit that applies to the reimbursement for hospital lodging costs. In plainer words, it is the daily limit amount of hotel expenses you can deduct from your hospital admission costs. The room rent cap determines the entirety of your health insurance claim.
Possibility of increasing the insurance policy's coverage amount
Here are several options to enhance coverage if you currently have health insurance and believe the total amount is insufficient to cover all potential medical emergencies.
Raise the sum insured that is currently in place. Every insurer offers you the chance to do so when your policy is renewed.

Get a super top-up plan. A super top-up plan provides additional protection for your current health insurance when hospitalization costs surpass the amount guaranteed maximum of your primary health policy.

Get a family-centred health insurance policy. Doing so might be more beneficial than purchasing personal health insurance since it will provide complete medical coverage for a broader range of medical requirements.
Benefits of Online Health Insurance Shopping in India
Online is the most transparent, practical, and economical way to get health insurance in today's digital environment. The advantages of buying health insurance online in India are as follows:
A wide range of options is available
You may easily compare health insurance plan costs and features online
You get access to affordable and top-notch health insurance plans in India
The application procedure is forthright
The simple and safe transaction and the purchasing method are practical
You can compare medical insurance policies at any time of the day
The process of claim filing has also been made easier
Why Should You Purchase the Finest Health Insurance Policy
Because of the rising cost of healthcare, it is essential to have a medical plan in today's environment. When considering covering your medical costs with insurance, evaluating different health insurance policies is essential. Here are some significant advantages of comparing and buying health insurance plans:
You can protect your and your family's finances
You can pay for the costs associated with healthcare
It can help in addressing medical inflation
You can be protected against monetary emergencies
You can profit from tax exemptions
You can beat rising rates of lifestyle sickness with prompt detection and treatment
You can enjoy the benefits of improved financial planning
Best Health Insurance Options in India
Several essential advantages come with a thorough medical insurance plan. The advantages may change depending on the insurance you pick. The following are some of the main advantages of the top health insurance plans in India:
Health insurance for individuals

Health coverage for families

Health insurance for seniors

Insurance against personal injury

Critical illness protection

Health insurance with an option of top-up

Maternity health plans
What is Covered in Full By The Best Medical Insurance Policy
A complete health plan covers most of your hospitalization costs and costs associated with daycare treatments. Going to Okbima, you may find India's top health insurance policies. These costs are covered by health insurance:
Preliminary hospitalization costs

After-Hospitalization costs

In-Patient costs

The cost of ambulances

Costs associated with operations

AYUSH treatment-related costs

Therapy at Home

Treatments for daycare
Things to Think About When Purchasing Insurance Plan
You are advised to check the company's website and read the most recent product booklet and policy wordings once you've narrowed your choice of medical plans. These portals allow for
optional online purchases. You may use these websites to compare and get details on different medical plans in one location.
If you choose to purchase through one of these health insurance plan comparison websites or aggregators, use caution if they attempt to pressure you into purchasing only one company's products. Also, ask whether they can help you when it comes to settling your claim. Ensure a more extensive selection is available on the insurance comparison website.
Conclusion
It may be advisable to get new health insurance because they have modern features that the regulator has approved. Also, while researching different insurance, consider the portability option. Before transferring the insurance to a different insurer, consider prices and benefits.
On the other hand, even if you currently have health insurance, you could feel it needs to be more comprehensive to cover all potential medical emergencies. Hence, if you're considering upgrading your health insurance plans to acquire extra protection against unplanned medical crises, you may use these strategies to get this insurance without paying a larger price.
Leave a Reply